Harmony Mums Restore 60 tablets
**Out of stock - no estimated date of arrival** Email us for updates [email protected]
Martin & Pleasance Harmony Mum's Restore has been carefully researched and formulated to specifically address the symptoms of stress and improve overall wellbeing and vitality.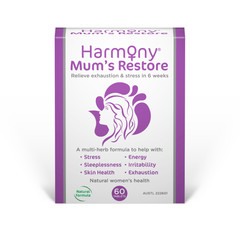 Specials are for online purchases only, don't miss out! -
Email
us to check for availability.
Martin & Pleasance Harmony Mum's Restore is not a vitamin and mineral supplement, it is a herbal medicine developed to have a therapeutic effect. Stress can be described as the feeling of being overloaded, overwhelmed with activities or tasks, wound up, tense and/or worried. When we feel stressed, our bodies have both emotional and physical reactions to these pressures and these reactions are the symptoms of stress. Prolonged exposure to the symptoms of stress can leave us feeling exhausted, depleted and irritable.
Harmony Mum's Restore includes two unique herbal extracts, Ocimum tenuiflorum (Holy Basil) and Olea europaea fruit (fresh) (Olive fruit). These two extracts help to provide relief from the symptoms of stress, relieve sleep problems and exhaustion as well as support healthy hair, skin and nails.
Also included in the Harmony Mum's Restore formula is Paeonia lactiflora (Peony) and Withania somnifera (Ashwagandha). These herbs have a history in traditional medicine of helping to nourish deleted and exhausted systems and help build resistance to ongoing stress.
Recommended Adult Dosage:
Weeks 1-6: Take 2 tablets per day.
Weeks 7-10: Take 1 tablet per day.
Tablets can be taken with water or juice, before meals or at least one hour after meals.
Each Tablet Provides:
Extract equivalent to the dried herbs:
Ocimum tenuiflorum whole plant (OciBest®) (Holy Basil) 6g
Paeonia lactiflora root (Peony) 3g
Withainia somnifera root (Ashwagandha) 1.5g
Olea europaea fruit (fresh) (Opextan®) 1g
Also including naturally derived excipients:
Calcium hydrogen phosphate, Cellulose – microcrystalline, Silica – colloidal anhydrous, Magnesium stearate. Tablet coating proprietary ingredient PI 4029.
Discontinue use if pregnancy occurs or you develop sensitivity to the formula.
If you are taking a course of medication, inform your prescribing practitioner you have commenced Harmony Mum's Restore.