Hedrin 15 Headlice Liquid Gel 100mL
Fast acting, proven solution that takes only 15 minutes to work!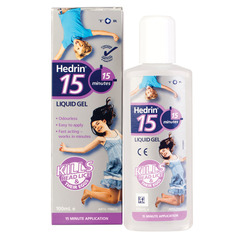 Specials are for online purchases only, don't miss out! -
Email
us to check for availability.
A gel formulation that contains Dimeticone and Penetrol®

Fast acting, proven solution that takes only 15 minutes to work!

A thicker gel formulation to aid the penetration of the louse egg

Fast acting to shorten treatment time

Easy to use – Apply – Leave 15 minutes – Wash

No combing required

Skin friendly – Can be used from 6 months of age

No odour and suitable for sensitive skin

Requires two 15 minute applications, seven days apart
Application
Applying Hedrin is Simple
Hedrin is a two-dose treatment. In order to treat head lice; a second dose of Hedrin should be applied 7 days after the first to deal with any eggs which may have hatched.
If re-infestation does occur; Hedrin may be used again immediately.
Dead lice can be washed or brushed out easily after treatment and any nits (empty egg cases) can be removed by hand or with a fine toothed comb.

How much will I need?
A little Hedrin goes a long way. The amount needed depends entirely upon the length of hair to be treated. A 100ml bottle will be sufficient for a two-dose treatment of short hair. Longer hair or multiple treatments will require a larger bottle.

Hedrin 15
Specially formulated with non-volatile ingredients and clinically proven to help kill head lice in one go. Hedrin 15 should be left on the hair for at least 15 minutes (or longer if more convenient).
To remove Hedrin 15, simply apply shampoo directly to the entire surface of dry hair BEFORE wetting it. Shampoo thoroughly, then rinse with water. Repeat the process, then apply conditioner, rinse and dry.
Hedrin 15 contains anti-foaming ingredients so the shampoo will not lather readily. If necessary; repeat the procedure, remembering to apply shampoo directly to dry hair.
Hedrin's efficacy is a result of its active ingredients, Dimeticone (Hedrin and Hedrin 15).
All formulations are patented and have been proven in clinical trials to help kill head lice. As Hedrin works in a purely physical way, Hedrin may work on lice that have developed a resistance to traditional pesticide treatments.