Heel Spascupreel 250 tablets
Spascupreel is a homeopathic preparation to reduce the severity of spasms in the organs of the smooth musculature (stomach, intestine, uterus, urinary tract); to relieve painful cramps and spasms of the striated musculature; to support the treatment of dysmenorrhea.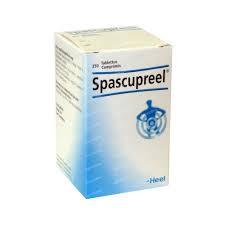 Specials are for online purchases only, don't miss out! -
Email
us to check for availability.
*Muscle spasms.
*Spasticity of the striated musculature.
*Used for stomach, intestine, gall bladder, uterus, urinary tract.
*Convenient tablet form.
*Non-habit forming and side-effect free.
Tablets: adults, 12 years and older, in general, 1 tablet 3 times daily. Children (6 to 12 years), in general, 1 tablet 2 times daily. Young children (2 to 6 years), in general, half tablet 3 times daily. Otherwise, use as directed by a homeopathic practitioner or physician. Allow to dissolve slowly in the mouth. Dissolve tablet in a teaspoon of water before administering to a young child.
Tablets: 1 tablet contains: medicinal ingredients: Passiflora incarnata D2 15 mg, Chamomilla D3 15 mg, Ammonium bromatum D4 30 mg, Colocynthis D4 30 mg, Agaricus muscarius D4 15 mg, Aconitum napellus D6 60 mg, Atropinum sulfuricum D6 30 mg, Gelsemium sempervirens D6 30 mg, Magnesium phosphoricum D6 30 mg, Veratrum album D6 30 mg, Cuprum sulfuricum D6 15 mg. Non-medicinal ingredients: magnesium stearate, lactose monohydrate.
Effective and gentle way of treatment:
Heel medications are designed to achieve the best healing power possible. Our medications are made of several different natural substances, mostly homeopathically prepared.

Unique homeotherapeutic system:
Our therapy system supports a multi-target regulation of disease processes. Instead of suppressing the symptoms, it is designed to put the body back into its biological balance.