Heel Traumeel Ointment/creme 100g
Effective relief of muscle and joint pain, as well as inflammation associated with injuries.

Supported by over two dozen scientific studies, Traumeel is a clinically proven preparation formulated to help regulate inflammation. Traumeel relieves muscle pain, bruising and inflammation associated with injuries such as sprains and contusions, and joint pain.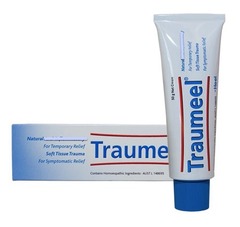 Specials are for online purchases only, don't miss out! -
Email
us to check for availability.
Accelerates healing as opposed to simply masking the injury
Helps regain mobility and resume normal activities more quickly
Available in an odorless cream or gel and is also conveniently offered in oral dosage forms
Suitable for the entire family
Better tolerated than non steroidal anti-inflammatory drugs (NSAIDs): does not cause adverse effects on the renal, cardiovascular, gastrointestinal, hepatic and nervous systems
Ointment: adults and children (over 2 years), apply generously to affected areas morning and evening, more often if necessary, rubbing in gently. If appropriate, also apply an ointment dressing or use as directed by a homeopathic practitioner or physician.
Ointment: 100 g contains: medicinal ingredients: Calendula officinalis _ 0.45 g; Hamamelis virginiana _ 0.45 g; Echinacea _ 0.15 g; Echinacea purpurea _ 0.15 g; Chamomilla _ 0.15 g; Bellis perennis _ 0.1 g; Millefolium _ 0.09 g; Aconitum napellus D1 0.05 g; Belladonna D1 0.05 g; Arnica montana D3 1.5 g; Symphytum officinale D4 0.1 g; Hypericum perforatum D6 0.09 g; Mercurius solubilis Hahnemanni D6 0.04 g; Hepar sulfuris calcareum D6 0.025 g. Non-medicinal ingredients: cetostearyl alcohol, heavy mineral oil, white petrolatum, purified water, ethanol. _: mother tincture.
No known medicinal interactions; may be combined with conventional or natural medications
Effective and gentle way of treatment:
Heel medications are designed to achieve the best healing power possible. Our medications are made of several different natural substances, mostly homeopathically prepared.

Unique homeotherapeutic system:
Our therapy system supports a multi-target regulation of disease processes. Instead of suppressing the symptoms, it is designed to put the body back into its biological balance.