Heel Zeel Comp N 250 tablets
When you need a helping hand…

Zeel comp. is made of an optimal combination of natural ingredients intended to relieve pain associated with arthritic and/or arthrosic conditions, control inflammation and reduce stiffness, improving joint mobility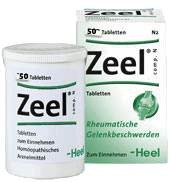 Specials are for online purchases only, don't miss out! -
Email
us to check for availability.
*Clinically proven effective in long-term treatments.
*Worldwide therapeutic use for over 13 years.
*Very well tolerated (no known renal, gastric, central nervous system or cardiovascular side effects).
*Suitable for patients of all ages.
*Alternative to NSAIDs (nonsteroidal anti-inflammatory drugs) such as diclofenac and COX-2 inhibitors (Vioxx and Celebrex) in mild to moderate cases.
Tablets: adults, 12 years and older, in general, 1 tablet 3 to 5 times daily. Otherwise, use as directed by a homeopathic practitioner or physician. Allow to dissolve slowly in the mouth.
Tablets: 1 tablet contains: medicinal ingredients: Rhus toxicodendron D2 1.0 mg; Arnica montana D2 0.5 mg; Dulcamara D2 0.3 mg; Sanguinaria canadensis D4 0.45 mg; Sulfur D6 0.75 mg. Non-medicinal ingredients: magnesium stearate, lactose monohydrate.
No known interactions with other prescription or natural medications.
Effective and gentle way of treatment:
Heel medications are designed to achieve the best healing power possible. Our medications are made of several different natural substances, mostly homeopathically prepared.

Unique homeotherapeutic system:
Our therapy system supports a multi-target regulation of disease processes. Instead of suppressing the symptoms, it is designed to put the body back into its biological balance.