Home Essentials Eucalyptus Oil BP 50ml
Eucalyptus oil is best known for its soothing and decongestant action and is a good addition to soothing chest balms and inhalations. It is also useful for home cleaning and even pet care.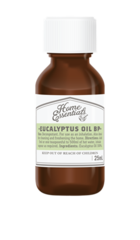 Specials are for online purchases only, don't miss out! -
Email
us to check for availability.
Uses & Tips

Inhalation - Supports clear airways.

Insect repellent - Pour a cup of water into a spray bottle and add two teaspoons of Eucalyptus Oil. Spray on clean household surfaces to deter insects.

Bath oil - Add 6 drops under the running tap.

Remove labels from bottles or remove sticky substances from surfaces (e.g. chewing gum, tape marks etc).

Remove wax from carpets/fabrics - Scrape off excess wax and sponge with Home Essentials Eucalyptus Oil.

Remove oil stains - Dab on stain, leave 1 hour then dab out with soap and water. May also remove cosmetic stains.