Hopes Relief Shampoo 200ml
Actively relieves itching Non irritant therapeutic shampoo Anti fungal Anti bacterial Controls flaking Nourishes the scalp Cleanses hair - Suitable for all hair types No Coal Tar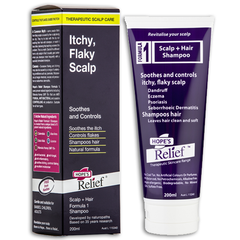 Specials are for online purchases only, don't miss out! -
Email
us to check for availability.
Why this all natural product is so totally different and gets results!
The scalp is the problem - 5 Natural Ingredients that target the scalp not just the hair.
PLUS
No Coal Tar - No Coal smell!!
Not your ordinary cosmetic shampoo and conditioner but a product specific for eczema, dandruff and itchy dry scalps. A range that cleans the scalp and hair but specifically also heals and controls flaking scalps with proven natural natural healing ingredients and no irritants. The range can also be used by people with healthy scalps that do not want to use irritants or chemicals.
A Common Myth - some people think their dandruff is caused by their scalp being too dry. They try to deal with this by not washing their hair with shampoo, or wash it less often, believing that washing worsens the problem. This is a myth. Dandruff is different from a dry scalp in that it usually gets better when you shampoo more frequently with a specially formulated shampoo.
Causes - Excessive flaking and itching may also be caused by a range of underlying conditions such as; psoriasis, Malassezia (a fungal infection), excessive oil production or seborrheic dermatitis.
Proven natural ingredients including Manuka Honey UMF 10+ that are anti fungal, anti bacterial and assist in oil production control. Suitable for all types.
More Benefits
Will not strip the hair of its natural oils
Will not interfere with any colours or rinses you may have in your hair
Ideal for day to day use
Not as soapy - but this is a good thing!
You may find that the shampoo doesn't lather quite as much as a cosmetic shampoo, this is because we don't use the chemicals that the cosmetic shampoo's use. This is a good thing because some of these chemicals are known to irritate the scalp.
For maximum results with scalps affected by eczema, psoriasis or dandruff BOTH Formula 1 and Formula 2 should be used TOGETHER initially on a daily basis for a minimum of 2 - 3 weeks.
After initial course for maintenance of a healthy scalp the Hope's Relief Shampoo can then be used frequently as a daily shampoo and the conditioner as required.
For normal scalps, Formula 1 and 2 can be used frequently as regular shampoos and conditioners for people who don't want to use irritants.
5 Active Natural Ingredients
Calendula
Gotu Kola
Manuka Honey UMF 10+
Aloe Vera
Licorice
Anti-bacterial
Anti-fungal
Anti-inflammatory
Sooths the itching
Excellents moisturiser
No Nasties
No Sodium Laurel Sulphate
No Coal Tar - No Coal Tar smell
No artifical colours or perfumes
No petro chemicals
Not tested on animals
No mineral oils
PH balanced, biodegradable, alkaline free
Hypo - allergenic, Sulfate free
Use only as directed. If symptoms persist consult your healthcare professional.