Hopes Relief Therapeutic Cream 60gm
Hope's Relief is the most effective product for eczema and psoriasis. It is gentle enough to use on all skin types - from babies to the elderly. The effectiveness of the cream has made Hope's Relief cream the Number One natural product for eczema, psoriasis and dermatitis throughout Australia, the UK and Japan. Formulated by a New Zealand born Naturopath.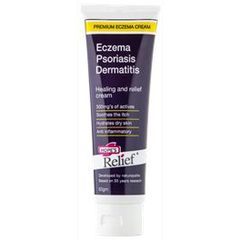 Specials are for online purchases only, don't miss out! -
Email
us to check for availability.
Hope's Relief is easily the best treatment for eczema and psoriasis that we have come across. It is the number one selling cream of its kind in Australia, the UK and Japan, and we expect it will soon be #1 in New Zealand.
Hope's Relief is a 100% natural, non-steroid, fast acting eczema and psoriasis treatment.
The Hope's Relief cream is an effective all-natural cream containing 5 herbal extracts. It rapidly absorbs into the skin penetrating deep to moisturise and soften the skin.
Hope's Relief delivers 3 in 1 benefits by:
- calming and soothing irritated skin
- giving pleasant itch relief
- repairing and healing dry cracked skin.
Perfect for babies and adults alike, leaving skin soft, supple, and healthy. Contains no nasty petro chemicals or parabens.
Calendula
Calendula has a long tradition of external use for eczema, psoriasis, dermatitis, cuts and abrasions. The actions are antiseptic, anti-flammatory, anit-fungal and vulnerary, assisting in skin repair.
Manuka Honey UMF 10+
Hope's Relief cream uses Manuka Honey UMF 10+ certified to have high anit bacterial activity. Staphylcococcus Aureus has been shown to be on 90% of eczema sufferers. Also nourishes and promotes tissue regrowth. This grade of Manuka Honey is also used by hospitals.
Aloe Vera
Aloe Vera is antibiotic, cooling and soothing. It is one of the great healing plants. It penetrates deeply to moisturise and soothes the skin. Clinical trials have proven its effectiveness in clearing the scaly plaques associated with psorasis.
Gotu Kola
Researchers have found that Goti Kola affects various stages of tissue development. The first step in tissue repair, the process of replacing skin after sores or ulcers. It has also been shown to decrease healing time and reduce scar tissue formation.
Licorice Root
Licorice is thought to function as an adrenal stimulant and as a natural source of cortin, a hormone similar to cortisone. Studies have shown licorice to contain anti-inflammatory properties.
Use only as directed. If symptoms persist consult your healthcare professional.