Imedeen Classic 60 tablets
Imedeen Classic Internal skincare. Visibly reduces the appearance of fine lines and wrinkles. Leaves the skin with a brighter, more youthful and even complexion.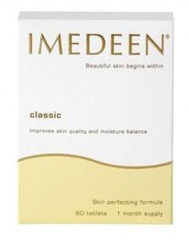 Specials are for online purchases only, don't miss out! -
Email
us to check for availability.
IMEDEEN Classic is for women aged 25 and over, at the first signs of ageing. It improves the skin's hydration and radiance with innovative natural based ingredients, including the exclusive Biomarine Complex™, zinc and acerola extracts.
The ingredients have been specifically selected for their beneficial effects on skin including moisture enhancement and skin building properties.
IMEDEEN works in the deeper layers of the skin where topical creams and lotions can not reach. It provides your skin with vital skin-boosting nutrients to improve the skin's overall quality, structure and appearance.
Two IMEDEEN Classic tablets daily helps to maintain and revitalise the collagen and elastin content of the skin. The result is improved skin hydration and radiance within 12 weeks.
Skin structuring and moisture building
Biomarine Complex™ Rich in proteins and polysaccharides similar to those naturally found in the skin's supporting tissue which is important for skin structure and moisture.
Skin structuring
Acerola - Rich in vitamin C. Essential in the formation of collagen.
Zinc - Contributes to the integrity of the epidermis.
For Scientific Documentation click this link
Adults - Take 2 tablets daily with a glass of water.
Demineralised fish proteoglycan extract (Biomarine Complex™) 105mg, Zinc as gluconate 2.15mg, concentrated extract equivalent to Malpighia punicifolia dry fruit 450mg.
People with a known allergy to seafood or soy should not take Imedeen Classic.
Pregnant and lactating woman should not take any supplements unless recommended by their doctor or health professional.
As market leaders in the field of skincare from within, IMEDEEN is committed to ensuring that the brand is recognised as a benchmark for excellence – not only by consumers, but also by scientists, dermatologists, cosmetologists and aestheticians worldwide.
In-vivo testing is carried out on volunteers under controlled conditions for scientists to assess the efficacy of the product. In-vitro studies involve isolating and culturing skin cells and tissues for researchers to see how they will react to certain ingredients.
There are over 15 independently published and reviewed studies confirming IMEDEEN´s skin perfecting effects and research is ongoing. All the active ingredients are based on nature and have been scientifically documented to be safe and effective. Our research study highlights are organized for you by product.