Inner Health Immune Booster For Kids 60g
Immune Health From 2-12 Years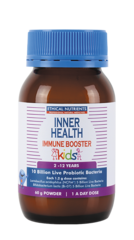 Specials are for online purchases only, don't miss out! -
Email
us to check for availability.
Therapeutic applications
Inner Health Immune Booster Kids may:
Reduce the frequency and duration of cold and flu symptoms.
Reduce the number of days absent from childcare or school due to colds.
Reduce the incidence of:
Runny noses
Coughs
Boost immune system function.
Available in 60 g and 120 g Powder
Store at 2°C to 8°C. (Refrigerate. Do not freeze.)
Children aged over two years:
Take 1.2g (1/2 dry level metric teaspoon) daily mixed into water, juice or milk (warm or cold). Sprinkle on cereal, food or take directly off the spoon. Alternatively take as advised by a healthcare professional.
Inner Health Immune Booster Kids is non flavoured with a naturally sweet taste. To maintain levels of healthy bacteria and support digestive health take Inner Health Kidsdaily.
Consult your healthcare professional before use in children under two years of age.
Each 1.2 g dose contains:
Lactobacillus acidophilus (NCFM®) - 5 Billion Live Bacteria
Bifidobacterium lactis (Bi-07) - 5 Billion Live Bacteria
No added artificial flavouring, colouring or preservatives. Free from gluten, wheat, dairy, lactose, eggs, nuts, yeast and salt.
If symptoms persist consult your healthcare professional. Do not use if cap and/or bottle seals are missing or broken.
This product is sold by weight not volume. Some settling may occur.
Ethical Nutrients Professional Natural Medicines is a premium quality, scientifically studied and therapeutic range created by the natural medicine experts.
Ethical Nutrients ensures quality by comprehensively testing their products before, during and after production in our very own purpose-built 40 million dollar facility and are produced in accordance with the Australian Code of Good Manufacturing Practice (GMP).
It is Ethical Nutrients mission to help people live happier, healthier lives and this mission drives every decision from product concept, through manufacture and testing to customer support and follow up.
Ethical Nutrients Professional Natural Medicines are only available from Pharmacies and Health Food stores, where you can get informed advice about improving your health through diet, lifestyle and quality natural medicine.
Reference: https://www.ethicalnutrients.com.au/About/AboutAustralia