Inner Health Plus Dairy Free 90 Capsules
Medical Strength Therapeutic Strains of Acidophilus and Bifidobacterium.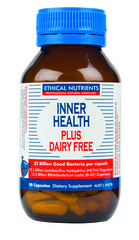 Specials are for online purchases only, don't miss out! -
Email
us to check for availability.
Also available in smaller, 30 capsule size for 30 days
Therapeutic applications:

Aids in the maintenance of a normal healthy gastrointestinal system and digestive function.
If you have been taking a course of antibiotics a probiotic such as Inner Health Plus Dairy Free may assist in maintaining the balance of good bacteria.
Inner Health Plus Dairy Free may be useful for the symptoms of bloating, gas or flatulence.
NCFM acidophilus can survive the passage through the human gastrointestinal tract.
Aids in maintaining a normal healthy immune system.
Helps improve general wellbeing.
Helps maintain normal healthy urogenital flora.
NCFM acidophilus may assist those who suffer from lactose intolerance.
Can I store Inner Health Plus out of the fridge?

It is recommended that Inner Health Plus be kept refrigerated to guarantee the number of bacteria on the label at expiry. Inner Health Plus is quite tolerant to short term temperature increases. The chart below indicates how long the bacteria in Inner Health Plus will survive in certain temperatures.
| | |
| --- | --- |
| TEMPERATURE | TIME GUARANTEED |
| 40oC | 48 hours |
| 30oC | 14 days |
| 25oC | 4 months |
| 4oC | 2 years |
Inner Health for Kids is specifically designed for children.
Directions for use:
Adults and children over five years: Take 1 capsule daily or as directed by a healthcare professional.
Suitable for dairy and lactose intolerant people.

Do not use if cap and/or bottle seals are missing or broken.

Gluten free.

No added artificial flavouring, colouring, or preservatives. Free from gluten, wheat, dairy, lactose, corn, eggs, nuts, yeast, and salt.

Store at 2°C to 8°C. (Refrigerate. Do not freeze.)
Located in the Fridge
Naturally derived vegetable capsule (VegeCaps).

Each capsule contains 25 Billion Good Bacteria:

Lactobacillus Acidophilus (NCFM) organisms
12.5 Billion
Bifidobacterium Lactis (Bi-07) organisms
12.5 Billion
Always read the label. Use only as directed. If symptoms persist consult your healthcare professional.
Ethical Nutrients Professional Natural Medicines is a premium quality, scientifically studied and therapeutic range created by the natural medicine experts.
Ethical Nutrients ensures quality by comprehensively testing their products before, during and after production in our very own purpose-built 40 million dollar facility and are produced in accordance with the Australian Code of Good Manufacturing Practice (GMP).
It is Ethical Nutrients mission to help people live happier, healthier lives and this mission drives every decision from product concept, through manufacture and testing to customer support and follow up.
Ethical Nutrients Professional Natural Medicines are only available from Pharmacies and Health Food stores, where you can get informed advice about improving your health through diet, lifestyle and quality natural medicine.
Reference: https://www.ethicalnutrients.com.au/About/AboutAustralia