Invisible Zinc Junior Clip-On 60g
JUNIOR CLIP-ON CREAM SPF 30+ UVA - UVB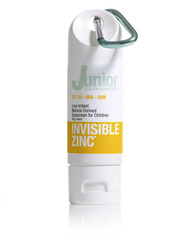 Specials are for online purchases only, don't miss out! -
Email
us to check for availability.
Our Junior Clip-on Cream offers the same superior UV protection of zinc oxide in a low-irritant formulation for children. Plus this go anywhere clip-on is perfect for prams, baby bags, sports bags, school bags or even your belt buckle. Suitable for the whole family.
FEATURES
Suitable for all skin types including children
Handy go-anywhere sunscreen with clip
Micronised zinc oxide
No parabens
BENEFITS
High UVA & UVB protection
Hydrating
Great for school bags, baby bags, prams and back packs
Rubs in easily and dries clear
Sunscreen should to applied to clean, dry skin at least 15 minutes before going outside. Apply sunscreen liberally every two hours, or more frequently if you are sweating, swimming or it has been wiped off. To apply liberally means about a teaspoon per limb. It is also important to keep a thin film of sunscreen on your skin to maximise its effectiveness, so resist the temptation to rub it all in.
USE ONLY AS DIRECTED. ALWAYS READ THE LABEL. AVOID PROLONGED UV EXPOSURE AND ALWAYS WEAR PROTECTIVE CLOTHING, HATS AND EYEWEAR WHEN EXPOSED TO THE SUN.
ZINC ABOUT IT…
The next time you think sunscreen, think Invisible Zinc.Think Invisible Zinc because there's only one active ingredient, naturally sourced Zinc Oxide – a mineral reflector that creates a physical, reflective barrier on the surface of your skin.Invisible Zinc contains no chemical sun filters, is suitable for sensitive skin, and gives you incredible broad spectrum protection from the sun's rays.
Invisible Zinc isn't the zinc you grew up with. It's light and rubs in clear, so you won't even know you've got it on.
Better still, it's made in Australia for the Australian sun.
So the next time you think sunscreen, think zinc.
Think Invisible Zinc.