Kolorex Intimate Care Cream 50g tube
Herbal Cream with Kolorex Horopito
For Natural Balance in Intimate Areas
Product of New Zealand
Herbal Cream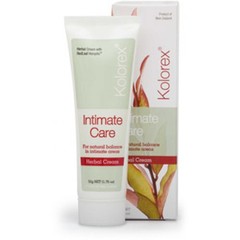 Specials are for online purchases only, don't miss out! -
Email
us to check for availability.
Demanding lifestyles can cause skin to appear out of balance, especially in our intimate areas. When this happens skin can become patchy and unsightly and lose its pleasant feel and fragrance.

Kolorex Intimate Care contains the unique New Zealand herbal extract Kolorex Horopito, which combines with the selected tea tree oils to provide deep down cleansing. The apricot kernel oil, aloe barbadensis and natural source Vitamin E condition and replenish the area. Then the lactic acid component promotes a pH level that helps the intimate area sustain its naturally balanced and healthy look.

Forest Herbs Research Limited
The key to the effectiveness of Kolorex is high activity specimens of the traditional New Zealand herb, Horopito (Pseudowintera colorata). These are grown organically on Forest Herb's own farm, set in a temperature rainforest adjacent to a million acres of pristine National Park. The leaf is carefully harvested and dried, and then undergoes a patented extraction process to produce a potent, residue free extract of Kolorex Horopito, rich in natural activity.
Each batch of Kolorex Horopito (pseudowintera colorata) leaves must pass an independent test for activity prior to use. Forest Herbs combines tradition with science to make available to the world the benefits of plants from New Zealand's unique environment.
Apply liberally to the desired area 2-3 times daily.

Allergy test: Prior to use, apply to a small area (inner wrist) and wait a minimum of 24 hours. If your skin reacts with discomfort or irritation do not use this product.
Water (aqua), cetyl alcohol, apricot (prunus armeniaca) kernel oil, cetearyl alcohol, ceteareth-20, tea tree (melaleuca alternifolia) leaf oil, pseudowintera colorata + olea europaea extract, natural vitamin E tocopherol acetate, aloe vera (aloe barbadensis) leaf extract (200:1), potassium sorbate lemon tea tree (leptospermum petersonii) leaf oil, lactic acid
The Kolorex Range is free from synthetic fragrances, mineral oils and parabens
Free from synthetic preservatives
Free from mineral oils
Free from synthetic fragrances
Free from parabens
Avoid contact with eyes. The cleansing extracts may cause a brief sensation of warmth upon application.