Kolorex Mouth and Throat Care Tea 25 x 1·7g bags
Herbal Tea
For Its Unique Hot Cleansing Action
Dietary Supplement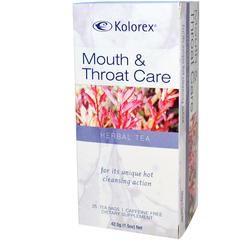 Specials are for online purchases only, don't miss out! -
Email
us to check for availability.
Peppermint (Mentha x piperita)
Refreshing Peppermint leaf infusions have traditionally been taken after meals to improve digestion. As a digestive aid, Peppermint helps to soothe digestion, settle the stomach and relieve occasional nausea, heartburn and flatulence.

Horopito leaf (Pseudowintera colorata)
This New Zealand herb was traditionally used by the early European settlers and Maori who made a tea of the leaves for stomach upsets. Modern science has confirmed the presence in Horopito of actives that promote a healthy microbial balance. Forest Herbs uses only Horopito that is independently laboratory verified to contain high levels of these actives. It is Horopito that gives Kolorex Tea its unique hot taste.

Anise Seed (Pimpinella anisum)
Used traditionally in South America as a folk remedy, with a reputation as a digestive aid. Anise seed oil is used to flavor drinks, food and confectionery. Anise seed is used in Kolorex products to enhance the action of Horopito.

Forest Herbs Research
The key to the effectiveness of Kolorex is high activity specimens of the traditional New Zealand herb, Horopito (P. colorata). These are grown organically on Forest Herb's own farm, set in a temperate rainforest adjacent to a million acres of pristine National Park. Forest Herbs combines tradition with science to make available to the world the benefits of plants from New Zealand's unique environment.
For maximum flavor and herbal benefit steep each tea bag for 4-8 minutes before removing. Drink without milk.
All Kolorex Total Care Products are:
Free from synthetic preservatives
Free from synthetic fragrances
Free from parabens
Free from mineral oils
As a precaution, not recommended during pregnancy.