Kool 'N' Soothe Instant Ice Pack 2 pack
Kool 'n' Soothe instant Ice pack is a ready to use cooling pack that requires no refrigeration and provides intense cooling relief similar to that of ice.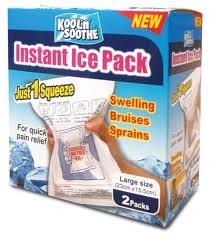 Specials are for online purchases only, don't miss out! -
Email
us to check for availability.
Squeeze the activating sachet within the pack and intense cooling relief is delivered instantly. Use Kool n' Soothe Instant Ice Pack for quick pain relief: Strains Sprains Bumps and Bruises Swelling Muscular Pain Headache / Migraine High Temperature / Fever Insect bites / Stings Relief on a hot day How does Kool 'n' Soothe Instant Ice Pack Work? By combining the inner liquid with the contents of the pack a reaction is activated to create an instant icy cold pack
How to use: There is a liquid sachet contained within the product Locate the inner liquid sachet and squeeze firmly to rupture Shake to mix contents until cold For strains, sprains, bumps, bruises, muscular back pain ideally apply within 5 minutes of injury for 20 – 30 minutes and repeat as required with a fresh pack every 2 – 3 hours whilst awake for the next 24 – 48 hours. Allow skin to return to normal temperature between treatments.
Use only as directed. For external use only Misuse of the product or prolonged contact with the skin can cause frostbite Wrap the product with a towel if using directly with the skin for prolonged periods of time or if the area of treatment feels too cold Discontinue treatment if the area of treatment feels numb or uncomfortably cold The product should be used with careful supervision with children under 12, the elderly and physically disabled. Ingredients can be harmful if ingested or come into direct contact with the skin or eyes If the inner contents is swallowed, drink water an seek medical attention Cannot be used on children under 1 year Do not open, cut or pierce product Do not sit, lye or otherwise expose the product to excessive pressure Do not eat the product Do not use if you have nerve damage or sensory impairment Do not use on areas where cold cannot be felt Do not refrigerate or freeze the product Do not attempt to reuse by refrigerating Do not use whilst sleeping Do not use the product over creams, rubs or lotions rubbed on the skin