Ladibugs Hair Care Elimination Kit
Getting rid of lice naturally!

Perfect for eliminating lice in the privacy of your own home.

The Kit includes~ Serum 4 oz, Mousse 4oz and Stainless Steel Comb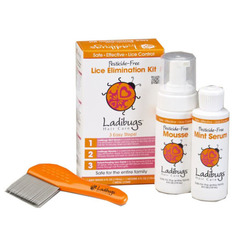 Specials are for online purchases only, don't miss out! -
Email
us to check for availability.
You'll love the smell, but the lice hate it!

Elimination products include Ladibugs Mousse made from a yeast based enzyme (a natural dissolver of nit glue) and Ladibugs Mint Serum, a blend of olive oil and peppermint that soothes the scalp while eliminating lice.

When used with the Ladibugs Metal Micro-Grooved Comb, lice don't stand a chance!
1. Wet hair down. Place the Ladibugs Mousse product
(15-20 pumps depending on length of hair)
generously through the hair, working it into the
roots. Let the product sit for 5 minutes.
2. Re-apply the Ladibugs Mousse and allow to sit for
another 5 minutes. The Mousse product helps
dissolve the glue that adheres the egg to the hair
shaft.
3. Combine 1/3 conditioner and 2/3 water in a spray
bottle and spray the hair down to ease the combing
process.
4. Comb the hair in all 4 directions taking larger chunks
of hair. After several swipes through the hair wipe
the comb on a white paper towel to monitor debris.
You will comb out debris for several days but your
debris will be less every day. You will continue to
comb for approximately 5 days until you have 2
consecutive clean comb outs.
The Kit includes~ Serum 4 oz, Mousse 4oz and Stainless Steel Comb