Lansinoh Nipple Cream 15g
HPA® Lanolin provides the safest, most effective relief for breastfeeding moms experiencing nipple soreness.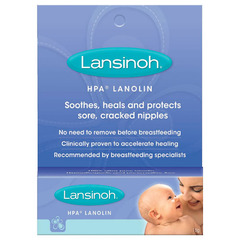 Specials are for online purchases only, don't miss out! -
Email
us to check for availability.
Lansinoh Lanolin Nipple Cream is the world's purest lanolin and has been specifically developed for the treatment of dry, sore and cracked nipples along with helping positioning and attachment (which is often the underlying cause of sore nipples).
Lansinoh Laboratories' exclusive ingredient, Lansinoh, is the world's purest lanolin. A naturally occurring emollient, lanolin is derived from the wool of sheep after shearing. It is nature's way of keeping the fleece soft and luxuriant while protecting.
Lansinoh HPA Lanolin has received the endorsement of the British Allergy Foundation by being awarded its Seal of Approval. This confirms that Lansinoh HPA Lanolin is more suitable for allergy sufferers as it has been scientifically proven to reduce exposure to allergens.
Directions:
With clean hands soften a small amount of Lansinoh between fingers and apply to entire nipple area after each feeding or as needed. Lansinoh lanolin does not have to be removed prior to breastfeeding.
For your comfort and to help protect sensitive nipples you may also apply Lansinoh before showering.
Lansinoh should be used in conjunction with addressing the cause of the soreness. See additional reference material on causes of sore nipples.
If soreness does not start to ease within 24 hours of commencing use of Lansinoh, or if the problem persists, the user should contact a Lactation Consultant, Breastfeeding Counsellor or their Health Care Professional.
Lansinoh lanolin used by itself is not a treatment for sore nipples caused by thrush (Candida albicans) or a bacterial infection.
Lansinoh 100% pure lanolin can be used in conjunction with treatment for skin conditions. Unbroken skin is the best barrier to infection, however Lansinoh nipple cream relieves dryness that can result in cracking and promotes healthy skin. It may also prevent some secondary infections.
Contains 100% Lansinoh - hypoallergenic ultra pure anhydrous lanolin (USP modified lanolin).
This is a personal care item and should be used by one individual only.

Warning: Keep the10g tube out of reach of children - the cap may be a choking hazard.