Lifestream Ultra Immunity Defence Tablet 30
Lifestream Ultra Immunity Defence is a natural, powerful combination of clinically researched ResistAid® and Echinacea. ResistAid® is clinically researched to provide triple action immune defence for everyday protection against ills and chills. It also works as a prebiotic for optimal gut health to further strengthen the immune system and Echinacea provides added upper respiratory tract support.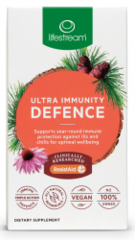 Specials are for online purchases only, don't miss out! -
Email
us to check for availability.
Lifestream Ultra Immunity Defence Plantcaps 30
Supports triple action immune defence:
Innate immunity (first line of defence)
Adaptive immunity (second line of defence)
Antioxidant protection
Prebiotic support for the growth of beneficial bacteria in the gut
Upper respiratory health
Use daily to protect against ill and chills for optimal wellbeing
Adults: Take 2 tablets daily with food or as directed by your healthcare professional
Children 6-12 years: Take 1 tablet daily with food or as directed by your healthcare professional
Ultra Immunity Defence
Active ingredients per serve (2 tablets)
ResistAid® Larix arabinogalactan 1500mg
Echinacea Echinacea purpurea 6030mg
Also contains tabletting aids.
Plantcaps are made from Tapioca.
Those with auto-immune conditions or taking immune suppressants should consult with their healthcare professional before taking this product.
Always read the label and use only as directed. If symptoms persist see your healthcare professional.
LIFESTREAM INTERNATIONAL LTD IS A PRIVATELY OWNED NEW ZEALAND COMPANY SPECIALISING IN THE MANUFACTURING, DISTRIBUTION AND EXPORTING OF NATURAL HEALTH PRODUCTS.
Lifestream has been operating since 1980 and proudly continues to be 100% New Zealand owned. We were the first company to bring Spirulina to the Australasian market and with this history comes a great deal of expertise and knowledge as well as strong market leadership.
OUR PHILOSOPHY
Lifestream is committed to providing excellent and ongoing health improvements and benefits to our customers worldwide.
We are proud to be known and respected as a company with the highest integrity that consistently uses only the finest quality ingredients to produce the most premium products on the market today.
Our partners enjoy the fact that we are specialists and are known for our expertise in wholefood based nutritional supplements that provide exceptional health benefits due to their purity and quality.
Source: http://www.lifestream.co.nz/about-us