LifeStream AstaZan 30 capsules
Lifestream AstaZan Astaxanthin supplement is an exciting new release. A powerful antioxidant, AstaZan protects from free radical damage and increases protection for sunburn - raises your skin's natural SPF rating significantly. 4mg natural Astaxanthin, 10mg Vitamin E. Contains Astaxanthin - a potent antioxidant Also used for sun protection and exercise recovery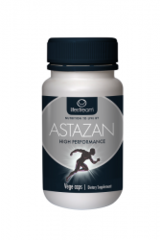 Specials are for online purchases only, don't miss out! -
Email
us to check for availability.
If you want to give yourself maximum protection from free radical damage, help limit sunburn and recovery time after exercise and support your body to live long and healthy, then Lifestream AstaZan is for you.

Just ONE Lifestream AstaZan capsule per day provides the recommended daily dose of astaxanthin, which is equivalent to 800g of Atlantic salmon!

Lifestream AstaZan is a unique extract with astaxanthin, a natural substance that has very powerful and far-reaching antioxidant benefits. Studies have shown it to be considerably more effective at free radical scavenging than Beta carotene, Grape Seed, Vitamin C & Vitamin E.
Lifestream AstaZan is a highly potent Antioxidant. A new and very exciting Astaxanthin supplement, it brings a new level of effectiveness and is unlike any other antioxidant as it also helps with sun protection and exercise recovery. Lifestream AstaZan is active throughout the entire body, and it can deliver antioxidant benefits directly to the brain, eyes and nervous system because the unique structure of the active component allows it to pass the "blood brain barrier". Lifestream AstaZan also helps recycle other antioxidants like vitamin E, beta carotene, lycopene and glutathione – switching them back "on" and prolonging their functional life.

Just One Capsule Per Day:

Helps limit sunburn - helps protect the skin from ultraviolet radiation.
Helps recovery time after exercise
Is considerably more effective than Vitamin E as an antioxidant
Uniquely crosses the 'blood-brain barrier' to deliver antioxidants directly to the brain, eyes and nervous system.
Has superior antioxidant activity against free radical damage

Where Does It Come From?
Lifestream AstaZan contains astaxanthin (pronounced as-ta-zan-thin), this natural high-performance carotenoid extract is carefully produced and grown in natural conditions under the Hawaiian sun. It is a natural and essential dietary component for fish like salmon, the rich astaxanthin content is responsible for the pink colour in their flesh. Until recently, eating large quantities of salmon was the only way for humans to get their daily dose of astaxanthin.
Sun Protection:
Lifestream AstaZan has the remarkable ability to help limit sunburn and help feed and support the skin in its defences against external damage from ultraviolet radiation (UVR). It is a systemic sunscreen active throughout the body that strengthens the skins natural defence system during exposure to UVR. Chronic sun damage and sunburn - especially in the first couple of decades of life - can result in prematurely dry, wrinkled skin and the possibility of skin disease in later life. Sunburn can damage skin cells (proteins, lipids or even DNA), increasing our risk of visible skin damage and long term complications. In defence our body utilizes an array of antioxidants to disarm the free radicals. Unfortunately under the severe stress of UVR exposure these antioxidant resources can be rapidly depleted.
How Does It Work?
It is believed that Astaxanthin complements and participates in the body's own antioxidant defence system and thereby helps to prevent skin damage. Scientists believe Lifestream AstaZan works by helping to preserve and enhance the protective effects of substances such as Vitamin E, Vitamin C, beta carotene, superoxide dismutase and catalase at the skins structure. These effects (in combination or separately) may reduce the acute inflammation reaction of the skin and tissue just below the skin that follows excessive exposure to UV radiation, which leads to sunburn and damage.

Warning: This product is not a sunscreen or sunburn protectant and does not have a sunburn factor. Do not use this product without adequate sun protection such as sunscreen, clothing protection etc.
Adults: Take 1 capsule per day, with food.
For optimum results take 1 capsule with a meal 3 times daily for an intial 2 week period. After 2 weeks reduce to a maintenance dose of 1-3 capsules daily as required.

Children 6-12 years: As directed by your healthcare professional.
Each Capsule Provides:
Natural Astaxanthin 4mg
Vitamin E (d-alpha tocopherol) 10mg
This product is not a sunscreen or sunburn protectant and does not have a sunburn factor. Do not use this product without adequate sun protection such as sunscreen, clothing protection etc.