Lifestream Nature's Multi Advanced 120 Capsules
A high performance all natural alternative for health conscious people who want to give their body a complete blend of highly concentrated food designed for maximum absorption.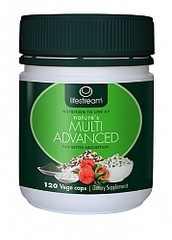 Specials are for online purchases only, don't miss out! -
Email
us to check for availability.
Many people fail to meet dietary recommendations for many reasons, including strict dieting, poor appetite, changing nutritional needs, or less-than-healthy food choices. Taking Lifestream Nature's Multi Advanced is an easy way to fill in nutritional gaps.
Mental & physical stress, a highly processed diet, tobacco & medical drugs may deplete magnesium stores therefore limiting the body to function at its best.
This advanced superfood formula is 100% natural, vegetarian, and free from artificial additives and fillers to support:
Immune protection
Long lasting energy
Bone and muscle health
Stress and sleep
Cellular strength and protection
Adults: 2 capsules daily
Children under 12 years: 1 capsule daily
Spirulina, Marine Magnesium, Calcium (Lithothamnium calcareum), Quinoa sprout, Acerola (Malpighia glabra), Selenium yeast
Quantity per 2 cap serve:
Vitamin B1 218.2mcg
Vitamin B2 282.6mcg
Vitamin B3 3.2mg
Vitamin B5 1.2mg
Vitamin B6 278.5mcg
Vitamin B12 0.5mcg
Betacarotene 269.5mcg
Biotin 9.9mg
Boron 39.6mcg
Vitamin C 9.4mg
Calcium 67.6mg
Carotenoids (mixed) 583.7mcg
Chlorophyll 1.7mg
Chromium 1.3mcg
Copper 5.5mcg
Folic Acid 41.1mcg
GLA 1.8mg
Iodine 5.0mcg
Iron 516.8mcg
Vitamin K 1.7mg
Magnesium 76.2mg
Manganese 115.9mcg
Phosphorus 2.8mg
Phycocyanin 25.6mg
Potassium 6.0mg
Selenium 66.4mcg
Silica 14.9mcg
Xanthophylls 315.7mcg
Zeaxanthin 155.5mcg
Zinc 15.3mcg