MAYBE BABY™ Saliva Ovulation Tester
MAYBE BABY™ helps you predict when you are most likely to conceive.
Convenient and easy to use this simple saliva test clearly shows when you are ovulating. It is 98% accurate and results can be seen in 10-15 minutes.
Reusable month after month, nothing else to buy.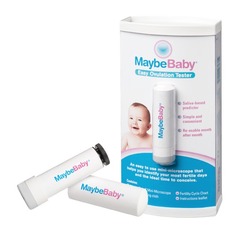 Specials are for online purchases only, don't miss out! -
Email
us to check for availability.
MAYBE BABY™ works by creating an image of your saliva.
The level of oestrogen in saliva increases dramatically 2 to 3 days prior to your fertile period and reaches its peak during the time of ovulation.
By viewing the magnified image of your saliva you can determine how likely you are to conceive.
It only takes a few moments to take the MAYBE BABY™ ovulation test.
Simply place a small amount of saliva on the lens, allow it to dry and look through the viewfinder.
During a non-fertile phase (when oestrogen levels are low) dried saliva reveals a pattern of pebbles or dots.
During ovulation ( when oestrogen levels are high) dried saliva crystallises and forms a distinctive "fern" pattern

Purpose:
The Science behind MAYBE BABY™
In 1957, scientists discovered that increased oestrogen levels, in the three to four days prior to ovulation and the two to three days following ovulation could be detected in saliva.
Higher levels of oestrogen cause a fern-leaf pattern to form on slides, which can be seen through a microscope.
Of course, very few women have a microscope at home so this method of predicting ovulation has not been readily accessible.
Until now.

MAYBE BABY™ is a mini microscope that allows you to take this simple, accurate ovulation test anytime, anywhere!

Simply place a small amount of saliva on the lens, allow it to dry and look through the viewfinder.

*During a non-fertile phase (when oestrogen levels are low) dried saliva reveals a pattern of pebbles or dots.
*During ovulation ( when oestrogen levels are high) dried saliva crystallises and forms a distinctive "fern" pattern