Mebo Burn Repair Ointment 40g
MEBO burn repair 100% natural Ointment. Aids natural healing of all burns, scalds and sunburn. Mebo Burn repair is a 100% natural ointment which assists the natural healing and repair of all burns, scalds and sunburn. Mebo burn repair helps clear away toxic material and promotes the natural repair and regeneration of new skin. Mebo burn repair provides a cooling and soothing effect on the skin. Mebo Burn repair is used in over 20,000 hospitals worldwide. Scientifically developed. Made from botanical extracts GE Free. Active ingredients radix scutellariae, cortex phellodendri & rhizoma coptidis with sesame extract and beeswax.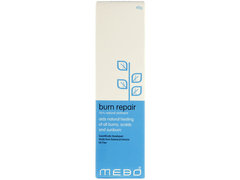 Specials are for online purchases only, don't miss out! -
Email
us to check for availability.
MEBO burn repair is especially formulated to promote the natural healing of all burns, including scalds, sunburn and nappy rash. MEBO burn repair works by helping to cool and soothe the affected area, encouraging stem cell regeneration to assist in the growth of new skin, helping to minimise scarring, moisturising and protecting the area.
How to use MEBO Burn repair:
Minor scalding and burns, including sunburn: Apply ointment up to 1mm thickness over the burn as quickly as possible. Every 4-6 hours gently remove any residual ointment and reapply. Take care to avoid irritating the damaged skin.
More serious burns: Apply up to 1mm thickness of ointment over the affected area. Carefully cut any blisters and discharge fluid. DO NOT remove blistered skin at this early stage. Every 4-6 hours gently remove any residual ointment and reapply. DO NOT use antiseptic or water to clean the affected area. Healing usually takes 6-7 days. To further protect the affected area, a dressing can be applied.
Apply MEBO burn repair, cover with 1 to 2 layers of gauze and then a breathable occlusive dressing with minimal padding. Keep the wound moist with MEBO burn repair at all times.
Infected Skin: Treat as for minor burns.
Minimising scarring: MEBO burn repair helps to minimise scarring. If scarring occurs use
Main ingredients: Radix scutellariae, Cortex phellodendri, Rhizoma coptidis, sesame oil, beeswax.
Safety Information
FOR EXTERNAL USE ONLY. Stop using if allergic or adverse reaction occurs. Not for internal use. Keep out of reach of children. If symptoms persist see your health professional. Use as directed.
Product Care: High temperatures or excessive handling may alter the consistency of the ointment. This will not change it's effectiveness. To return to normal state immerse the upright tube in hot water for 1-2 minutes. Allow to cool, standing the tube on its top. Store in a cool, dry environment (less than 20C)