Mebo Wound Repair Ointment 40g
MEBO Wound Repair Aids Natural Healing of All Skin Wounds.MEBO Wound repair is a 100% natural ointment which aids the natural healing and repair of all skin wounds. MEBO wound repair promotes natural healing, supports the immune response to fight infection and minimise scarring. MEBO wound repair is used in over 20,000 hospitals world wide. For all skin wounds including ulcers (bedsores, diabetic, chronic), cracked nipples, shingles, chilblains, impetigo (school sores), haemorrhoids, cracked/chafed/grazed skin, and donor-site repair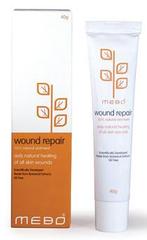 Specials are for online purchases only, don't miss out! -
Email
us to check for availability.
For all skin wounds including ulcers (bedsores, diabetic, chronic), cracked nipples, shingles, chilblains, impetigo (school sores), haemorrhoids, cracked/chafed/grazed skin, and donor-site repair.
MEBO ointments promote the natural regeneration of stem cells located at the bottom of the hair follicle. These cells are capable of producing the hair shaft, nerve cells, sebaceous glands, and also the daughter cells that create the dermis and epidermis.

Stem cells can repair injured and defective skin by restructuring and regenerating new skin according to the original skin's physiological structure. This speeds healing as well as minimising scarring.

Research, including results from clinical trials, have shown that the healing process is significantly faster using MEBO ointments.
How to use MEBO wound repair
Apply up to 1 mm thickness of ointment over the affected area. Every 4 to 6 hours, gently remove any residual ointment and wound by-products, then reapply fresh ointment. DO NOT use antiseptic or water to clean the affected area. Take care to avoid irritating the damaged skin.

Special application:
To further protect the affected area, a dressing can be applied. (See dressing instructions) Keep the wound moist with MEBO wound repair at all times. The frequency of dressing changes can be reduced in accordance with improvement of the wound but should be maintained at least daily depending on the amount of exudate and manifestation of the wound.

Rectal area:
Apply to affected area morning and evening.

After surgery:
Apply to promote wound healing after sutures have been removed.

Minimising scarring:
MEBO wound repair helps to minimise scarring.

However, if scarring occurs, use MEBO skin restore after the wound has healed.
Main Ingredients: Radix scutellariae, Cortex phellodendri, Rhizoma coptidis, sesame oil, beeswax.
FOR EXTERNAL USE ONLY. Stop using if allergic or adverse reaction occurs. Not for internal use. Keep out of reach of children. If symptoms persist see your health professional. Use as directed. Product Care: High temperatures or excessive handling may alter the consistency of the ointment. This will not change it's effectiveness. To return to normal state immerse the upright tube in hot water for 1-2 minutes. Allow to cool, standing the tube on its top. Store in a cool, dry environment.