MENEVIT CAPS 90
Planning to start or extend your family is an exciting time. Woman are well aware of the importance of lifestyle change, pre-conception and pregnancy vitamin supplements. Now men can also take positive steps to support conception by adopting a healthier lifestyle, and in particular being made aware of sperm health.
The good news is men can take simple steps to be in the best physical condition to conceive.
It's not just women who can prepare for pregnancy - that's why there's Menevit.
Elevit for Women, Menevit for Men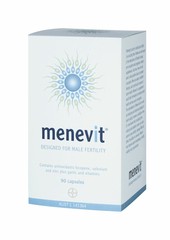 Specials are for online purchases only, don't miss out! -
Email
us to check for availability.
IN STOCK NOW !
A NEW once-a-day supplement for men, containing a unique combination of antioxidants, which is specifically formulated to support sperm health for couples wanting to fall pregnant.

For best results, Menevit should be taken once daily with food for three months before beginning to try for a baby. This is because the sperm's production cycle takes around 74-78 days.

Couples planning pregnancy may be interested to know that Elevit is the only clinically proven pregnancy supplement specifically formulated for women planning pregnancy. Like Menevit, Elevit should also be taken three months prior to conception as well as throughout pregnancy, to help reduce the risk of neural tube defects by 92%.

Sperm have a very demanding role to play in fertilisation. The journey sperm undertake on their way to fertilise an egg has been likened to a human trying to swim a journey of several thousand kilometers.

Menevit is a supplement specifically formulated to maintain sperm health for couples planning pregnancy.

When couples prepare for pregnancy, they may focus only on the woman's health. However, women alone do not account for a couple's fertility.

Men need to ensure that their sperm are healthy.

Menevit is designed for Male Fertility.
Pair this with Elevit for your partner for the best start out in life
Men - Take one capsule daily with food, preferably for at least 90 days prior to planning conception.
Spermatogenesis requires 74-78 days to complete a full cycle. Recommended to be taken once-daily for three months pre-conception and continued as required or as directed by the doctor.
This product contains selenium which is toxic in high doses. A daily dose of 100ug of selenium from dietary supplements should not be exceeded.
Active Ingredients
Ingredient Amount
Ascorbic Acid (Vit C) 100 mg
d-alpha-tocopherol (vit E) 400 iu
Folic Acid 500 ug
Garlic Oil 333 ug
Lycopene 6 mg
Selenium (as selenomethionine) 26 ug
Zinc (as sulfate) 25 mg

Menevit contains antioxidants lycopene, selenium and zinc plus garlic and vitamins.
Not suitable for use by children under 15 years. Do not use if carton seals are missing or broken. Keep out of reach of children. Store below 25 degrees celcious (in a cool dry place.)

Medicines have benefits and some may have risks. Always read the label and use strictly as directed. If symptoms persist or you have side effects, see your healthcare professional. Menevit is not a treatment for infertility.