Molicare Premium Lady 3 Drops Pads 14
These are especially designed for light to moderate incontinence. The anatomically shaped pad can be fitted securely and discreetly in firm fitting underwear or MoliCare Premium Fixpants. Range of absorbency and sizes.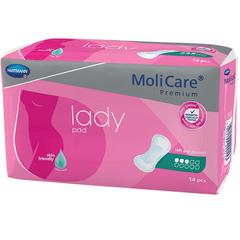 Specials are for online purchases only, don't miss out! -
Email
us to check for availability.
Molicare Premium Lady Pad 3 Drops 14's
Size 33 x 13cm
Absorbancy 470mL
14 Pieces