MUMOMEGA PREGNANCY CAPSULES 30
Build your babies brain cells. Mumomega oil has a structural fatty acid, like DHA, which is an important building block for the brain cells. Mumomega oil is 70% Omega-3 essential fatty acids, the majority being DHA, a key structural essential fatty acid that is part of the membranes of brain cells.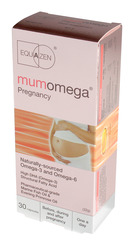 Specials are for online purchases only, don't miss out! -
Email
us to check for availability.
Mumomega Capsules - Omega 3 and Omega 6.

Equazen Mumomega is a unique supplement combining specific Omega 3 and Omega 6 long chain fatty acids that are important Before, During and After Pregnancy.

Essential Fatty acids such as Omega 3 and Omega 6 are vital for good health. They play a key role in almost every part of your body.

Your body cannot produce Omega 3 so it must come from the diet, with oily fish being a great source.

Although it has been recommended to eat at least 2 portions of fish each week, one of which should be oily, most people are not eating enough.

Pregnant women should also eat oily fish but should follow the doctors/pharmacists advice on which type of fish should be avoided or only eaten in small quantities.

Supplementing with Mumomega is a convenient way to ensure input of these important nutrients notably DHA (Omega 3) and GLA (Omega 6) which is converted in the body to Arachidopnic Acid - thereby helping to contribute to the mothers intake.
It is particularly important that these long chain fatty acids are in constant supply during the third trimester of pregnancy, and the first two years of a child's life: the times when brain growth is most rapid.

Adults: 1 Capsule per day with food.
Do not exceed the recommended intake.
Not suitable for Children
Active Ingredients:
Each Mumomega 1 Capsule provides:

Omega 3 Fish Oil 600mg of which:
EPA 42mg
DHA 300mg

Omega 6 (Evening Primrose Oil) 150mg
of which: Gamma-linolenic acid (GLA) 15mg

Vitamin E (d-alpha tocopherol) 2.8mg

also contains Sunflower Oil and Natural Vanilla Flavouring.

NO Aspartame
NO Saccharine
NO Artifical Flavours
NO Artifical Colours
Store in a cool dry place. - Capsules are NOT to be fed to infant children - Women taking medication may want to consult their doctor before starting supplementation. - Food supplements should not be used as a substitute for a varied diet. - Keep out of reach of young children.