Nasaleze Natural Allergy Prevention 30 days supply
Nasaleze is a clinically provern, natural powder spray that delivers fast, effective protection against hayfever, and other airborne allergens that are inhaled through your nose.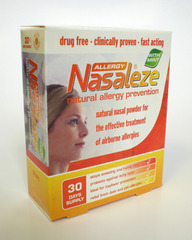 Specials are for online purchases only, don't miss out! -
Email
us to check for availability.
A unique blend of cellulose and peppermint, Nasaleze acts as a natural barrier to airborne allergens, treating the cause not just the symptoms, whilst also having a pleasant minty aroma.
Before using, test the pressure required to administer an ideal dose. Always shake bottle before use. Gently blow nose. Apply to each nostril by squeezing the bottle firmly and inhaling. To maintain protection against airborne allergens, it is advised to use Nasaleze three times a day, but can also be used as often as required.
Inert natural cellulose powder of vegetable origin and peppermint powder
Do not use in tamper evident seal is broken. Always replace cap and store in a dry place. Once opened, use within 6 months. If powder gets in your eyes rinse with water. In the unlikely event that you suffer any adverse reaction consult your doctor. If you are allergic to mint do not take this product. Do not use in conjunction with other nasal sprays as this may reduce the effectiveness of the product.