Nature's Way Primadophilus Reuteri 90 Veg Capsules
Nature's Way Primadophilus Reuteri is our top-selling probiotic brand Primadophilus blended with clinically proven lactobacillus reuteri. Broad spectrum probiotic for 5 years and over, quick acting (with or after antibiotics, thrush, intestinal conditions). Very popular. 5 billion CFUs per capsule Enteric-coated, vegetarian capsules L. Reuteri plus Acidophilus & Rhamnosus You may be interested in the Probiotics – Assisting with bloating, flatulence & poor digestion blog article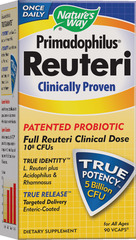 Specials are for online purchases only, don't miss out! -
Email
us to check for availability.
Broad spectrum probiotic for 5 years and over, quick acting (with or after antibiotics, thrush, intestinal conditions) - Our top-selling probiotic brand Primadophilus blended with clinically proven lactobacillus reuteri. Reuteri is one of the first strains of friendly bacteria to pass from mother to child where it rapidly colonises and becomes an important part of the gastrointestinal flora. Designed for use by children and adults. This product is kept refrigerated throughout the manufacturing process and during it's storage here at HealthPost. Usage: Primadophilus is designed to deliver to the gut the beneficial microorganisms essential to maintenance of healthy intestinal flora. Reuteri encourages gut healing and uniquely contains the specific protein "AGGH" that encourages lactobacteria to cluster and colonise in the intestinal tract. Diarrhoea, constipation, intestinal infections and certain medications can reduce the number of beneficial bacteria leading to gastrointestinal ill health. To maintain the healthy balance add Nature's Way Primadophilus to your daily health regimen. Especially useful with or after antibiotic use. Take 1 capsule daily. Keep refrigerated to maintain maximum potency. 3 Key Unique Features: True Potency ensures 5 billion CFUs per capsule for the entire shelf life. True Identity ensures only the strains listed on the label are found in the product. True Release enteric-coating ensures stomach acid survival and intestinal delivery.
Take 1 capsule daily. Keep refrigerated to maintain maximum potency.
Each Capsule Provides: Proprietary Probiotic Blend 76mg providing 5 billion microorganisms (Lactobacillus reuteri, Lactobacillus rhamnosus, Lactobacillus acidophilus) Vitamin C (ascorbic acid) 1.2mg NutraFlora scFOS (short-chain fructooligosaccharides) 200mg Also contains: Plant derived capsule, aqueous enteric-coating, Magnesium stearate.
May contain a minimal residual amount of dairy or soy protein.