Naturo Pharm Arnica Plus Spray 25ml
Arnica plus Cream is a Naturo Pharm Classical plus product that assists rapid response to bruising, fatigue, injury, shock and trauma and aids natural muscle recovery after strenuous excercise or exertion. Arnica plus is also available in a convenient oral spray form.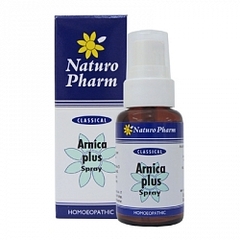 Specials are for online purchases only, don't miss out! -
Email
us to check for availability.
The homoeopathic remedy Arnica Montana is made from the herb commonly known as Leopards Bane. Naturo Pharm's Arnica plus is manufactured using a mixture of carefully selected potencies (called a potency chord), which work on a number of different healing levels in the body at the same time, producing a faster and more effective remedy. Arnica plus assists the body's rapid response to shock, injury, fatigue and bruising. Boosts normal recovery after strenuous exercise or exertion, surgery and in times of trauma.
Beneficial for:

assisting the body's natural response to shock, injury, fatigue and bruising

aids normal muscle recovery after strenuous exercise or exertion.

Aids normal defence mechanisms in times of trauma and after surgery.

Commonly used to help the body respond to trauma injuries and shock.

Great for bruising, sprains, swelling and other superficial muscle and tissue injuries.

Also good for joint mobility and suppleness.
Dosage:
Acute: Use 2 sprays orally at 15 minute intervals for up to 6 doses, then 3 times a day as required.

Chronic: Use 2 sprays orally 3 times a day as required.
Active Ingredients:
Contains:
Arnica in a potency chord of 6c, 12c, 15c and 30c.
*Keep out of reach of children.
*Homeopathic remedies aim to stimulate your body to respond to symptoms being experienced. Unlike many healthcare products, homeopathic remedies should STOP BEING TAKEN when symptoms start to improve.
*If symptoms persist or worsen, stop taking the remedy immediately and consult your healthcare professional.