NEILMED NasaDrops Saline on the go 15ml x 15
NasaDrops Saline on the Go is a drug-free, preservative-free, sterile nasal saline solution that soothes and moisturizes infants' dry or congested noses. The 15 mL (0.5 oz) ampoules are convenient for home, nursery, school, playground, travel and hospital use. A few drops of saline will moisturize, while squeezing a larger quantity will deliver a gentle nasal rinse. For ages 6 months and up (Ages under 6 months please consult your physician).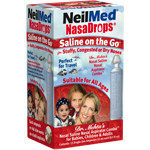 Specials are for online purchases only, don't miss out! -
Email
us to check for availability.
Use NasaDrops Saline on the Go to alleviate:
Nasal Allergies and Dryness
Nasal Congestion
Nasal Symptoms from Flu and Cold
Nasal Irritation from Occupational and House Dust, Fumes, Animal Dander, Grass, Pollen, Environmental Pollutants and Smoke
Nasal & Sinus Application:
Step 1: Twist tab to open the ampoule or vial.
Step 2: If using on a child, hold baby or child in upright position.
Step 3: Tilt baby or child's head slightly forward.
Step 4: Place the tip of ampoule in the nostril.
Step 5: Press gently to dispense a few drops to moisturize or squeeze as needed to deliver a larger quantity for nasal irrigation. Depending on the size of the nasal cavity, the irrigating saline with mucus will come down from the other nostril. Discard any unused solution.
Step 6: Use up to six times daily as needed or as directed by your doctor.
Step 7: Now with the introduction of Dr. Mehta's Nasal Saline-Aspirator Combo™, once the ampoule or vial is emptied out, you can use it as a disposable bulb aspirator to suction out the nasal secretions.
Contents:
15 Single-Use Ampoules 15 mL each (0.5 fl oz)
Educational Brochure and Instructions of Use
USE ONLY AS DIRECTED, IF SYMPTOMS PERSIST SEE YOUR DOCTOR/HEALTHCARE PROFESSIONAL. ALWAYS READ THE LABEL.