NEILMED NasaMist Isotonic Saline Spray 75ml
NasaMist® Isotonic saline spray to protect, cleans, moisturize and soothe your delicate nasal passages.
NasaMist® Isotonic saline spray is a sterile natural soothing saline spray. Applying a gentle fine mist in the nose is an excellent way to keep the nasal passages moist. NasaMist Saline Spray comes in isotonic, pediatric and hypertonic concentration. Nasal sprays should not be mistaken for large volume irrigation systems like Sinus Rinse™ Nasal Wash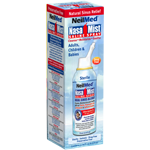 Specials are for online purchases only, don't miss out! -
Email
us to check for availability.
NasaMist Saline Spray helps alleviate …
Nasal Allergies and Dryness
Sinusitis, Rhinitis
Allergic Asthma
Post Nasal Drip
Sinus Pressure & Nasal Congestion
Nasal Symptoms from Flu and Cold
Nasal Irritation from Occupational and House Dust, Fumes, Animal Dander, Grass, Pollen, Environmental Pollutants and Smoke
Directions For NasaMist Saline Spray :
This drug-free, non-burning saline spray helps alleviate nasal allergies, dryness, post-nasal drip and congestion from the common cold or flu. Hypertonic delivers over twice the concentration of saline as Isotonic. Pediatric provides a specially designed box for babies and children and the tip is same as our standard blue box tip. Please contact your physician before using on babies under 6 months.
Step 1: Insert tip of actuator into nostril and press gently until adequate volume has been sprayed and the nasal passages are moist.
Step 2: Repeat for the other nostril. For babies and children, do not insert nozzle beyond the flange. Use as often as needed to moisturize.
USE ONLY AS DIRECTED, IF SYMPTOMS PERSIST SEE YOUR DOCTOR/HEALTHCARE PROFESSIONAL. ALWAYS READ THE LABEL.