Neocate Gold 400g
Neocate Gold is an amino acid-based infant formula designed for the dietary management of infants (0-12 months) with cows' milk allergy, multiple food protein allergy or other medical conditions where an amino acid-based formula is required. It is the most recent addition to our range with a unique nutritional profile.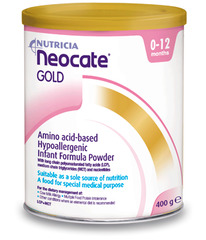 Specials are for online purchases only, don't miss out! -
Email
us to check for availability.
Neocate Gold:
Is hypoallergenic, based on 100% non-allergenic amino acids
Is milk protein and soy free
Is nutritionally complete which means it contains the nutrients required to support growth and development for infants
Contains LCP (long chained polyunsaturated fatty acids), MCT (medium chain triglycerides), and nucleotides

Your child's healthcare professional might prescribe Neocate Gold for:
Cows' milk allergy
Multiple food protein allergy

Food allergy associated conditions:
Eosinophilic oesophagitis
Gastro-oesophageal reflux disease
Other medical conditions for which an amino acid-based diet is required
Preparation Instructions:
It is important to follow the preparation instructions of Neocate Gold carefully as incorrect preparation can make your baby ill.

Wash hands thoroughly, clean and sterilise bottles and teats
Boil fresh water and allow to cool for 30 minutes so that it feels warm to the wrist
Pour the correct amount of water into the sterilised feeding bottle
Fill the scoop provided with Neocate and level off with a clean knife. Do not press powder into the scoop. Only use the scoop provided
Add the prescribed number of level scoops of Neocate to the premeasured water
Replace the cap on the bottle and shake well to mix until the powder dissolves
Before feeding check the formula temperature is correct by placing a few drops on the wrist. Formula remaining in the bottle after one hour of feeding should be discarded. Do not reheat formula during feeding
Internationally, a slightly different formulation is used in some countries for regulatory reasons. Please contact your local Nutricia office for more information.
Use under medical supervision
The quantity of feed should be determined by a healthcare professional only and is dependent on the age, bodyweight and medical condition of the patient
Powdered infant formula is not sterile. Infant formula should be prepared immediately prior to feeding