NeoCell Marine Collagen 120s (Was Fish Collagen+HA)
Marine Collagen delivers bioavailable Collagen for firmness and elasticity, Hyaluronic Acid for quenching hydration in the skin and a Collagen support complex to optimize new Collagen production in the dermis.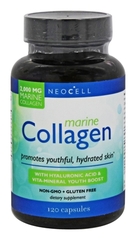 Specials are for online purchases only, don't miss out! -
Email
us to check for availability.
The Powerful "Youth & Beauty Boost" from Marine Collagen

Marine Collagen is an advanced nutricosmetic designed to promote healthy, strong and hydrated skin.

Marine Collagen delivers bioavailable Collagen for firmness and elasticity, Hyaluronic Acid for quenching hydration in the skin and a Collagen support complex to optimize new collagen production in the dermis.

Marine Collagen Youth & Beauty Benefits:
Promotes strong and resilient skin matrix

Promotes skin elasticity and firmness
Provides the building blocks for collagen synthesis
Assists in cell turnover in the skin
Antioxidant for UV generated free radicals



Hyaluronic Acid: Nature's Moisturizer

Hyaluronic Acid (HA) is found in every tissue of the body, and is an essential lubricant of healthy skin, joints and eyes. HA production also slows with age, resulting in a loss of hydration and elasticity in the skin. Clinical studies show that HA assists in regulation of cell turnover in the skin, serves as an anti-oxidant to free radicals generated by UV radiation, and aids in communication between cells and cell-mediated immune response.
As a dietary supplement, take two (2) capsules twice daily. For optimum nutritional benefits take on an empty stomach and wait 30 minutes before eating.
The therapeutic benefits of collagen have been widely recognized in Europe and Asia for decades. At NeoCell, we are proud to say that we introduced collagen to the Americas.
Neocell was started in 1998 by founder and fearless leader Al Quadri after an extraordinary personal experience. Following a heart attack, Al endured triple- bypass surgery and a recovery that was slow and difficult. His muscles atrophied, and his usual energy disappeared. To recover Al understood that his future health depended on re-engaging his body's own potential for healing and rejuvenation. It was during his investigation of holistic therapies that he happened upon the unlikely remedy of collagen. Al learned of the integral role collagen plays in strengthening and rebuilding lost muscle mass and connective tissue. Within a few weeks, Al began to rapidly recover and regain his lost vitality.
Once fully recovered, a reinvigorated Al set out to understand the means by which collagen had stimulated his own regenerative systems, thus enabling his rapid recovery. For Al, this wasn't just a miracle. It was his life's calling- to make the same health and vitality Al experienced in his recovery accessible to everyone.
His goal was to create products that allowed people to live younger, longer lives with abundant energy and wellbeing. And so Neocell was born, as a family-owned, research oriented business committed to introducing the world to a premium quality collagen-based supplement line.
Since our founding we have been continually enhancing our manufacturing processes so we are able to offer our customers the most bioavailable and bioactive collagen peptides on the market. We are proud to say millions of people have benefitted from our efforts and are now living a more youthful life.

Today, NeoCell is the #1 collagen brand in the world and a leader in the field of nutritional science. While we have grown considerably over the years, one thing has never changed - our commitment to finding the most innovative and effective nutraceutical supplements.