NeoCell Super Collagen Powder (198g)
Provides 6,6000 mg of Type 1 & 3 collagen per serve in powder form.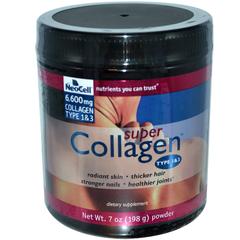 Specials are for online purchases only, don't miss out! -
Email
us to check for availability.
Helps minimize fine lines and wrinkles, improves skin elasticity, and holds moisture in the skin:

Thickens fine hair, adds body and can slow hair loss
Corrects split, rigid and weak nails
Strengthen and nourish ligaments, tendons and bones
Provides specific amino acids (hydroxyproline and hydroxylysine) necessary to replenish our body's collagen supply
Persons taking this supplement often see visible improvements within 3 weeks
Made from Type 1 & 3 collagen


Let Super Collagen Powder become the hidden hero of your youthfulness. A new spring in your step. Radiance in your skin. Luster in your hair. Strength in your nails, joints, and bones. The word "collagen" is derived from the word kolla, the Greek word for glue. Collagen is the strong fiber that weaves throughout our body for strength and support to literally hold the body together, similar to glue, yet stronger than steel wire. Daily, the body repeats a cycle of collagen breakdown and rebuilding. As we age, the process changes and it is estimated that since the body slows down in the rebuilding phases, the body loses collagen at a rate of 1.5% per year from age 25 onwards. This collagen breakdown is what causes most visible signs of aging including wrinkles, sagging skin, joint pain, and brittle nails.
As a dietary supplement slowly add one scoop (scoop included) of Super Collagen Powder to a glass of water or juice once daily. Works best with a hand blender. Vitamin C works synergistically with Super Collagen Powder and it is recommended that either juice containing vitamin C or a Vitamin C supplement be taken with the Super Collagen Powder.
The therapeutic benefits of collagen have been widely recognized in Europe and Asia for decades. At NeoCell, we are proud to say that we introduced collagen to the Americas.
Neocell was started in 1998 by founder and fearless leader Al Quadri after an extraordinary personal experience. Following a heart attack, Al endured triple- bypass surgery and a recovery that was slow and difficult. His muscles atrophied, and his usual energy disappeared. To recover Al understood that his future health depended on re-engaging his body's own potential for healing and rejuvenation. It was during his investigation of holistic therapies that he happened upon the unlikely remedy of collagen. Al learned of the integral role collagen plays in strengthening and rebuilding lost muscle mass and connective tissue. Within a few weeks, Al began to rapidly recover and regain his lost vitality.
Once fully recovered, a reinvigorated Al set out to understand the means by which collagen had stimulated his own regenerative systems, thus enabling his rapid recovery. For Al, this wasn't just a miracle. It was his life's calling- to make the same health and vitality Al experienced in his recovery accessible to everyone.
His goal was to create products that allowed people to live younger, longer lives with abundant energy and wellbeing. And so Neocell was born, as a family-owned, research oriented business committed to introducing the world to a premium quality collagen-based supplement line.
Since our founding we have been continually enhancing our manufacturing processes so we are able to offer our customers the most bioavailable and bioactive collagen peptides on the market. We are proud to say millions of people have benefitted from our efforts and are now living a more youthful life.

Today, NeoCell is the #1 collagen brand in the world and a leader in the field of nutritional science. While we have grown considerably over the years, one thing has never changed - our commitment to finding the most innovative and effective nutraceutical supplements.