Nicorette Cooldrops 2mg 20 lozenges
Fights craving and withdrawal symptoms.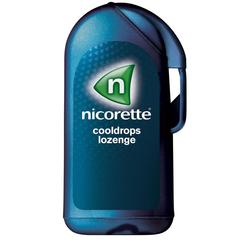 Specials are for online purchases only, don't miss out! -
Email
us to check for availability.
How it works:
As the NICORETTE® Cooldrops Lozenge discreetly dissolves in your mouth; it releases nicotine into your saliva. It is then absorbed through the lining of your mouth and enters your blood stream, which then relieves cravings and withdrawal symptoms.
Why use it?
Not only is it discreet and easy to use, it fights more than just cravings. During a quit attempt you may experience more than just cravings, especially within the first few days. Introducing its latest lozenge innovation, NICORETTE® Cooldrops Lozenge fights cravings and withdrawal symptoms:
Anxiety
Increased appetite
Irritability
Low mood
Poor concentration
Restlessness
Place the lozenge in your mouth.
Periodically the lozenge should be moved from one side of your mouth to the other, and repeated, until the lozenge is completely dissolved.
Use a maximum of 15 lozenges a day to reduce nicotine cravings.
Each lozenge contains 4 mg nicotine (as nicotine resinate)
Other Ingredients Core
Mannitol (E421)
Xanthan gum (E415)
Winterfresh Flavour
Sodium carbonate anhydrous
Sucralose (E955)
Acesulfame potassium (E950)
Magnesium stearate (E470b)
Coating
Hypromellose (Methocel E3)
Winterfresh Flavour
Titanium dioxide (E171)
Do not use if you are allergic to nicotine and/or under 12 years of age. Do not use unless a doctor has told you to if you have had a stroke, or heart or circulations problems. Ask your doctor/pharmacist before use if you have uncontrolled high blood pressure, a stomach ulcer, kidney or liver disease, to take insulin for diabetes, an overactive thyroid, adrenal gland cancer.
Ask your doctor/pharmacist before use if you are pregnant or breastfeeding, under 18 years of age, or taking any other medicines.
Store below 25c. Keep out of reach of children. Foil sealed for your protection.
Mandatory Information - NZ
NICORETTE® products contain nicotine. Stop smoking aid. Always read the label. Use only as directed. Johnson & Johnson (NZ) Ltd, Auckland.
Reg Approval Number:938