NICORETTE INHALATOR 4 cartridges
Nicorette Inhalator 15mg 4 Cartridges

Enabling you to replace nicotine in a way that mimics the act of smoking, NICORETTE Inhalator can help you quit.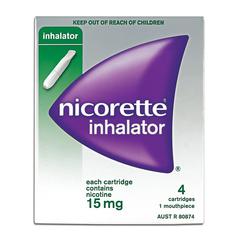 Specials are for online purchases only, don't miss out! -
Email
us to check for availability.
How do I use NICORETTE Inhaler?
The NICORETTE Inhaler tackles the habit of smoking, as well as the physical addiction to nicotine. When you puff on the mouthpiece, the cartridge releases nicotine to help relieve your craving. And, because it's designed to be held like a cigarette, your hands are kept busy too.

Take a shallow puff about once every 2 seconds or take 4 deep puffs every minute. Continue this for up to 20 minutes. After this time all nicotine in the cartridge would have been used up.

Do not try to make one cartridge last all day. Although every smoker is different, the most successful quitters often use an average of six cartridges a day.
Temporary abstinence from smoking

The Inhaler should be used during smoke-free periods, for example in smoke free areas or in situations when you wish to avoid smoking.

Smoking reduction
Use NICORETTE Inhaler between smoking episodes to prolong smoke-free intervals and with the intention to reduce your smoking as much as possible. If after 6 weeks you have not reduced the number of cigarettes smoked each day, then you should seek professional advice.

You should try to quit smoking as soon as you feel ready, but no later than 6 months after starting your treatment. If 9 months has passed since starting your NICORETTE Inhaler and you have still not been able to make a serious attempt at quitting smoking, then seek professional advice.

Regular use of the Inhaler after 12 months is not recommended.
NICORETTE Inhaler Programme
You should use between 6-12 cartridges per day for the first 12 weeks. How many you need depends on how many cigarettes you used to smoke. Try not to use too many or too few cartridges, but use the Inhaler as needed to relieve your withdrawal symptoms and cravings to smoke.

Remember, if you have any questions regarding how or when to use the Inhaler, please speak to your pharmacist, and always read the label.
How to combine use of the NICORETTE Patch and Inhaler

Normally NICORETTE Patch or Inhaler alone would provide enough nicotine to help most people control their craving for cigarettes. However, some people may find that even though they are using nicotine replacement therapy (NRT) they still have intense or frequent cravings they find difficult to cope with. If you are one of these people you may benefit from combining NICORETTE Patch use with NICORETTE 10mg Inhaler.

Each morning apply a NICORETTE 15mg/16 hour Patch to an intact area of skin. The NICORETTE Patch should be removed before going to bed. After applying the NICORETTE Patch use NICORETTE 10mg Inhaler whenever a craving occurs. For best results try to use at least 4-5 cartridges of NICORETTE Inhaler every day. The combination of NICORETTE Patch and NICORETTE Inhaler should be used in this way for 6-12 weeks. After this time if required you can wean yourself off NRT by either:

Use the NICORETTE 10mg/16 hour Patch for 3-6 weeks and then use the NICORETTE 5mg/16 hour Patch for 3-6 weeks while using the same number of Inhaler cartridges in a day that you have routinely used. Then when a patch is no longer needed, gradually reduce the number of Inhaler cartridges until you no longer need them. OR Stop use of the NICORETTE 15mg/16 hour Patch and then gradually reduce the number of Inhaler cartridges that are used until you no longer need them.

Detailed instructions on how to assemble the Inhaler:

Remove the mouthpiece from the plastic wrap.
Align the marks on the mouthpiece and pull apart.
Take out the blister tray.
Peel back to release one cartridge.
Press the cartridge firmly into the bottom of the mouthpiece until the seal breaks.
Put the top onto the mouthpiece.
Again align the marks on the mouthpiece and push the top and bottom firmly together to break the top seal of the cartridge.
Twist to misalign the marks.
Your NICORETTE Inhaler is now ready to use.
Mandatory Information - NZ

NICORETTE products contain nicotine. Stop smoking aid. Always read the label. Use only as directed. Johnson & Johnson (NZ) Ltd, Auckland.