NICORETTE Invisible Patch 25mg 7 patches
NICORETTE INVISIPATCH™ is a once-a-day way to beat nicotine cravings.
An easy, low maintenance solution to help you quit - just stick it on and the patch delivers a controlled dose of nicotine to help tackle cravings for 16 hours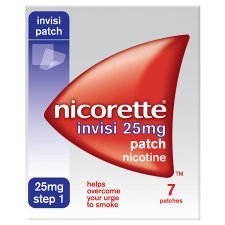 Specials are for online purchases only, don't miss out! -
Email
us to check for availability.
NICORETTE INVISIPATCH is an effective once-a-day solution to help you deal with nicotine cravings and withdrawal symptoms associated with giving up smoking. The patch is ideal for tackling nicotine dependence without thinking about it too much. Once applied, the nicotine is gradually released into your system throughout the day, helping you reduce your withdrawal symptoms, and get used to your new smoke-free lifestyle.

The INVISIPATCH™ is proven to be 44% more effective than the original NICORETTE Step 1 patch (INVISIPATCH 25mg vs. Original Patch 15mg at 12 weeks). The patches provide a steady flow of nicotine to the body for up to 16 hours, making it much easier to work into a regular once-a-day routine, keeping nicotine cravings at bay during the day when you need it most.

NICORETTE INVISIPATCH is specially designed to be as discreet as possible. It's semi-transparent and discreet meaning you can tuck it away from view and get on with your day. Just pop it on first thing every morning, and you can focus on enjoying another smoke-free day.

NICORETTE INVISIPATCH: for stopping immediately The idea is to stop smoking immediately and use the patch to relieve the cravings to smoke. After achieving this you then slowly reduce the amount of nicotine that you are getting by switching to lower strength patches. You then stop using the patches. You should aim to do this within 12 weeks (3 months). If you smoke more than 10 cigarettes a day, then the NICORETTE INVISI 25mg PATCH is the correct starting dose for you. The NICORETTE INVISIPATCH™ is available in three strengths (25mg, 15mg & 10mg), so you can start on the highest dose and then gradually reduce your intake:

*Start with the strength 25mg full strength patches for eight weeks
*Switch to the 15mg patch for two weeks
*Finally, lower the dose to the 10mg patches for a further 2 weeks before giving up all together

Or if you smoke fewer than 10 cigarettes a day, then you should start on the 15mg patch for 8 weeks, then cut down to the 10mg patch for 4 weeks.
Apply one fresh NICORETTE; INVISIPATCH first thing every morning

Apply the patch to a clean, dry, hairless area of skin on the front or side of your chest, upper arm or hip.

At the end of the day, remove the patch and dispose of it safely before going to bed.
When using NICORETTE INVISIPATCH you should avoid:
Applying the patch to the same spot of skin two days running Using the patch on broken or inflamed skin