Nicotrol Classic 4mg Gum 105 pieces
Nicotrol Gum helps you to give up smoking by relieving the desire to smoke, as well as some of the unpleasant effects, which smokers experience when they stop smoking.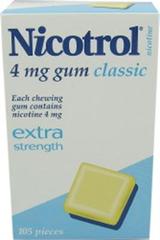 Specials are for online purchases only, don't miss out! -
Email
us to check for availability.
Nicotrol Gum is also used to help smokers who need to temporarily stop smoking e.g. on long air flights. Nicotrol Gum can also help reduce the amount of cigarettes smoked in smokers who are unable or unwilling to quit.

How Nicotrol Gum works

Smokers have both a physical reliance on nicotine (i.e. the body becomes dependent on nicotine) and a psychological reliance on the smoking habit.

When you give up smoking, your body will miss the effects of nicotine and you will miss the habit of smoking.

Nicotrol Gum helps you to tackle these two sides of the problem separately, instead of all at once.

It is your body's dependence on nicotine, which causes withdrawal symptoms when you suddenly stop smoking. Nicotine is an addictive substance. Symptoms may include irritability, restlessness, depression, weight gain, and craving for cigarettes.

Nicotrol Gum is intended to ease such withdrawal symptoms by providing your body with nicotine. This leaves your mind free to concentrate on overcoming your psychological desire to smoke.
12 week program - Week 1-6: 1 piece every 1 to 2 hours; Week 7-9: 1 piece every 2 to 4 hours; Week 10-12: 1 piece every 4 to 8 hours.
Nicotrol gum should not be used by children, persons under 18 years of age, or by non-smokers.

You should not smoke while using Nicotrol gum. Do not use this gum if you are pregnant, intend to become pregnant, or are breast-feeding.

Please consult with your doctor or pharmacist before starting a program with Nicotrol gum if you are taking any form of prescription medicine, or if you suffer from any form of heart or vascular disease, diabetes, liver or kidney disease or have an overactive thyroid condition.

Swallowing the nicotine contained in the gum may aggravate other conditions, such as active oesophagitis, mouth inflammation, gastritis, or peptic ulcers. The most common side effects associated with Nicotrol gum are headaches, dizziness, and insomnia.