Nordic Naturals Nordic Omega-3 Gummy Worms 30 Gummies
Chewy strawberry worms rich in the omega-3 EPA+DHA for children 2+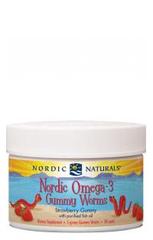 Specials are for online purchases only, don't miss out! -
Email
us to check for availability.
Chewy strawberry fish oil treats for children ages two years and over.

No artificial flavourings, colourings, or preservatives
Gluten FREE, Yeast FREE, Milk derivative FREE
Easy to chew

Mountain Trolls are the most secretive Trolls - the most anyone has ever seen of one is a bushy tail sticking out from behind a mossy boulder. Every night they emerge from their hidden underground labyrinths to put out baskets of Nordic Omega-3 Gummy Worms for the Troll kingdom.
For 2 years and over, 1 worm daily with food, or as directed by your health care professional or pharmacist. Please ensure child chews each worm thoroughly.