Nuk Breast Milk Bags - 25pk
NUK Breast Milk Bags
Benefits:

* Leakproof thanks to the double seal
* Hard-wearing, freezer-safe material
* Sterilised bags for single use
* 25 bags per pack
* Bisphenol-A free
* Perfect addition to the NUK Breast Pump and Breastfeeding Range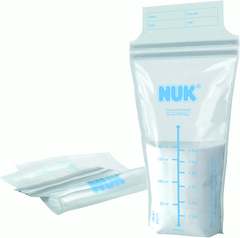 Specials are for online purchases only, don't miss out! -
Email
us to check for availability.
When it comes to breast milk, hygiene is paramount. For this reason NUK Breast Milk Bags are sterilised and do not need to be cleaned or sterilised before use. This saves time, as the bags are completely ready to use.

NUK Breast Milk Bags provide a field for writing the name, date and time the milk was expressed. It also has space for the volume. The field is located outside the filling area, in order to prevent potential damage occurring when writing the labels. There is also a scale for reading off the volume of milk.

NUK Breast Milk Bags are particularly practical. Thanks to the double-seal the bags are leak-proof. The bags can be clearly arranged either in the refrigerator or freezer in order to save space. Due to the flexible material they can be easily stacked one above the other.

When lying flat NUK Breast Milk Bags have a larger surface area than breast milk containers, allowing faster freezing and easier thawing. By fast freezing, the natural ageing process of breast milk is slowed down, the precious milk thus retaining its valuable ingredients.

It is easy to fill a feeding bottle after thawing the milk. As the bags are designed to be used only once, they don't need to be cleaned after use either, thus saving mother's time.
NUK offers products for children ranging from newbown babies through to nursery. NUK Products are made to fit and complement each other and are designed to support the different development stages of your child, thus creating the basis for promoting the most important thing in life: a healthy future.

For more than 50 years, we have spent each day seeking new solutions, which make life easier for parents and promote children's development. In our searches we trust experts in many disciplines: midwives, doctors, nutritionists and especially you - the mothers and fathers.

In almost 100 countries in the world, NUK products have been part of baby's everyday life for generations. Wherever it is, NUK repeatedly sets new standards - from the NUK AIR SYSTEM to the latest milk pumping techniques through to the current NUK Genius soother, with which the jaw-compatible NUK shape was optimised yet again.

Our production location for all teats and bottles is Germany and is therefore subject to the highest quality requirements. From the origin of the raw materials through to the packaging, we keep a good eye on everything and also subject ourselves to regular strict control by the independent Fresenius Institute.