NUK Everyday Essentials Pack
The most practical of all packs, for the parent who may have forgotten some of the basics!
Each pack comes with a Lamaze or Skiphop soft toy and a gift bag.
Packaged and ready to give away for your convenience!
Gift Pack includes - • Nuk Disposable Change Mats 4 pack • Nuk Bottle Cleaner 450ml • Nuk Soother Chain • Nuk Soothers 0-6months • Nuk First Choice Anti Colic Wide Neck Bottle 150ml • Nuk Bottle & Teat Cleaning Brush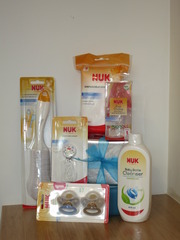 Specials are for online purchases only, don't miss out! -
Email
us to check for availability.
Nuk Disposable Change Mats -
So convenient for when baby is out and about - keep a pack in your bag and in your car...
Gives a germ free enviroment to change baby wherever you are, also ideal to lay baby on for play time
The absorbent top is soft and comfortable for baby
The PVC-free waterproof backing keeps little spills intact and it is light and easy to carry around
Nuk Bottle/Teat Brush Set 2 in 1 -
Two functions - one handle

The NUK 2-in-1 Bottle Brush has been specially designed for cleaning baby bottles and teats.

*With additional small teat brush into the bottle brush handle
*With flexible, sturdy bristles for a thorough cleaning
*With an air-hole in the brush handle for a quick drying of the teat brush
*With a hook for hanging up
*Available in different colour combinations
Nuk Soother Chain -
Practical and safe:

The NUK Soother Chain prevents the NUK soother from being dropped, becoming soiled or being lost. It has a practical clip system for attaching the chain quickly and safely to your baby's clothes. In addition, the hook system makes it easier to attach the soother.
Nuk Silicone Soother -
Tried and tested a million times over:

NUK Classic Happy Days soothers have the orthodontic NUK shape, an anatomically shaped mouth shield and motifs that are part of a child's happy world.

Like all NUK soothers, they incorporate the NUK AIR SYSTEM. This means air can escape from the baglet through a valve. This way it stays soft and flat enough to prevent jaw malformations.
Nuk First Choice Anti Colic Wide Neck Bottle -
The teats and bottles that grow with your baby
The NUK FIRST CHOICE system combines all orthodontic benefits of the NUK teat shape with the feeling of breastfeeding - perfect for whenever you are unable to breastfeed.

Nuk Bottle Cleaner -
A natural-based cleaner for tough stains

A baby's food in the first few months consists mainly of milk and purée. The tough milk proteins are left in the baby bottle, the teat and on the dishes, cultivating germs, bacteria and bad smells. The NUK BABY BOTTLE CLEANSER has been specially developed for cleaning baby products:

*reliably removes milk, purée and juice residue in particular thanks to the enzymes contained in its natural ingredients
*is so mild that it can be safely used on all baby products, for example baby bottles and teats, cups, cutlery, as well as anything that comes into contact with a baby's mouth
*a thin fluid consistency for quick and easy cleaning and rinsing
1 x Nuk Disposable Change Mats 4 pack
1 x Nuk Bottle Cleaner 450ml
1 x Nuk Soothers 0-6months
1 x Nuk First Choice Anti Colic Wide Neck Bottle 150ml
1 x Nuk Bottle & Teat Cleaning Brush