Nuk First Choice Replacement SILICONE Spout - 1pk
NUK FIRST CHOICE Silicone Spout
for all NUK FIRST CHOICE bottles
*Soft, long-lasting with a neutral odour
*Leakproof, perfect for on the move
*With the same softness as NUK Silicone Teats
*Can also be combined with any NUK FIRST CHOICE Bottle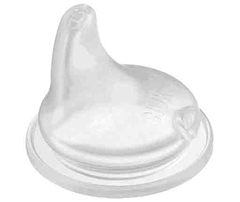 Specials are for online purchases only, don't miss out! -
Email
us to check for availability.
Helping your baby take the first steps to independence

When your baby grows into a toddler, NUK FIRST CHOICE eases the transition from breastfeeding or bottle feeding to independent drinking. Spouts are therefore an integral part of the tried-and-tested bottle system.

*The soft silicone is pleasantly soft and leakproof
*This rubbery, elastic plastic is extremely temperature and light resistant, neutral with regard to smell and taste and is completely free from harmful substances
*The NUK Anti-Colic AIR SYSTEM balances the vacuum in the bottle, helping to prevent colic and discomfort caused by your baby swallowing air
*The spout fits all NUK FIRST CHOICE bottles, allowing you to introduce it at the right stage for your baby
*Suitable for children of 6 months and older
*NUK Spouts are approved by the British Dental Health Foundation for promoting healthy oral development
Silicone

Silicone is a very soft rubbery elastic material, is temperature resistant and has no taste.

It is free from chemicals, can be boiled, is odourless, transparent and has a smooth surface. All these are important properties for teats or soothers.
NUK offers products for children ranging from newbown babies through to nursery. NUK Products are made to fit and complement each other and are designed to support the different development stages of your child, thus creating the basis for promoting the most important thing in life: a healthy future.

For more than 50 years, we have spent each day seeking new solutions, which make life easier for parents and promote children's development. In our searches we trust experts in many disciplines: midwives, doctors, nutritionists and especially you - the mothers and fathers.

In almost 100 countries in the world, NUK products have been part of baby's everyday life for generations. Wherever it is, NUK repeatedly sets new standards - from the NUK AIR SYSTEM to the latest milk pumping techniques through to the current NUK Genius soother, with which the jaw-compatible NUK shape was optimised yet again.

Our production location for all teats and bottles is Germany and is therefore subject to the highest quality requirements. From the origin of the raw materials through to the packaging, we keep a good eye on everything and also subject ourselves to regular strict control by the independent Fresenius Institute.