Nuk Microwave Steam Steriliser, inc 2x FC Bottles
NUK Micro Express
Microwave Steam Steriliser

*Fast, effective disinfection in just 3 minutes*
*For NUK FIRST CHOICE and all standard bottles
*Operates using only 60ml water - NO CHEMICALS
*Dishwasher safe
*Pack includes 2 x 300ml PP FIRST CHOICE Bottles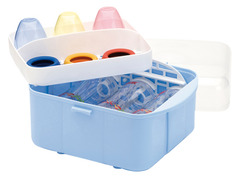 Specials are for online purchases only, don't miss out! -
Email
us to check for availability.
For quick, fast cleaning

In the space of just one day, babies and small children require several hot meals. And each time, the bottle and teat not only need to be clean but also disinfected.

The NUK Micro Express Microwave Steam Steriliser

*disinfects baby bottles, bottle accessories, soothers and milk pump parts with a steam heat disinfection - without any use of chemicals and in just 3 minutes (at a microwave power setting of +1,000 watts)
*holds up to three NUK FIRST CHOICE 300 ml baby bottles at any one time.
*fits into all standard microwaves with a minimum inside height of 180mm, inside width and depth of
270 mm
*can be universally used for all bottle shapes and sizes suitable for use in a microwave
*includes a pair of tongs for the hygienic removal of the bottles
*can be easily cleaned with a cloth after disinfecting and is also suitable for use in the dishwasher
*has been tested according to a recognised laboratory safety standard
NUK offers products for children ranging from newbown babies through to nursery. NUK Products are made to fit and complement each other and are designed to support the different development stages of your child, thus creating the basis for promoting the most important thing in life: a healthy future.

For more than 50 years, we have spent each day seeking new solutions, which make life easier for parents and promote children's development. In our searches we trust experts in many disciplines: midwives, doctors, nutritionists and especially you - the mothers and fathers.

In almost 100 countries in the world, NUK products have been part of baby's everyday life for generations. Wherever it is, NUK repeatedly sets new standards - from the NUK AIR SYSTEM to the latest milk pumping techniques through to the current NUK Genius soother, with which the jaw-compatible NUK shape was optimised yet again.

Our production location for all teats and bottles is Germany and is therefore subject to the highest quality requirements. From the origin of the raw materials through to the packaging, we keep a good eye on everything and also subject ourselves to regular strict control by the independent Fresenius Institute.