Nuk Newborn Bottle Set
Clinically proven for combined breast and bottle feeding
The set includes:
-2x NUK My Love Collection Bottles 150ml
-2x NUK My Love Collection Bottles 300ml
-1x NUK Open & Close System
-1x NUK Deluxe Bottle Brush
-1x NUK Genius Soother, silicone, 0-6months, with cover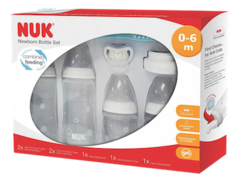 Specials are for online purchases only, don't miss out! -
Email
us to check for availability.
Whether you are feeding expressed breast milk or formula, the Newborn Bottle Set featuring the advanced First Choice+ Bottle & Teat System is the ideal start. Everyday essentials such as the NUK Deluxe Bottle Brush and Open & Close System will help make feeding time more relaxed.
My Love Bottles
Featuring the NUK First Choice bottle with it's wide neck opening, the bottles are easy to handle, can be held firmly and can save space when stored away. The wide bottle neck makes it extremely easy to fill the bottles without a mess and to clean them thoroughly and they fit the NUK First Choice+ Teats.
NUK My Love Bottles are made of high-quality polypropylene that is particularly resistant and is also suitable for freezing.
NUK First Choice+ Teat – the most natural teat for your baby
The NUK First Choice+ Teat lets your baby drink in a relaxed and natural way, almost like breastfeeding. The teat, which is right for the jaw, has a flexible, extra-soft zone and an improved Anti-Colic Air System. It is particularly well-accepted by babies and is especially well suited too, if you would like to combine bottle and breastfeeding.
The ideal size for your newborn, the 0-6month small hole teat is suitable for thin liquids such as breast milk. For slightly thicker feeds, such as formula milk, the 0-6months medium hole can be used.
Deluxe Bottle Brush
Durable nylon bristles ensure the thorough cleaning of milk bottles. The NUK Deluixe Bottle brush is practical and easy to use.
Open & Close System
Open and close with just one twist. The NUK Open & Close System replaces the standard sealing disk making feeding time considerably easier. Simply screw on between the bottle and screw ring to enjoy leak free, spill proof, hygienic opening & closing.
Genius Soother, silicone, 0-6months
The NUK Genius Soother helps your baby because it is more than just a soother: it is an innovation. It was developed together with the orthodontic practitioner, Dr med. dent. Hubertus von Treuenfels, based on the most recent medical and technical findings. It has a calming effect and helps prevent crooked teeth. The shape of the NUK Genius Soother's teat is taken from the tried and tested NUK Shape that is right for the jaw and modelled on a mother's nipple as she breastfeeds.
A cover for more hygine
Perfect for on-the-go: The NUK Soother Cover keeps the soother clean, so that it is ready to use at any time.