Nuk Silicone Nipple Shields - Large 24mm dia - 2pk
NUK Silicone Nipple Shield
with protective storage case

*Protects sensitve nipples during breastfeeding
*Now in two sizes - Medium and large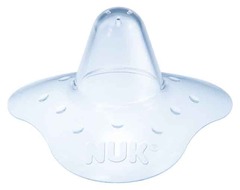 Specials are for online purchases only, don't miss out! -
Email
us to check for availability.
Breast is best for your child, because breast milk contains everything, which his body needs in those first few months to grow and to build up a healthy immune system. But even the most natural thing in the world can have its problems - for example, if your nipples become irritated, sore or particularly sensitive.
NUK has developed nipple shields, which protect the nipples during breastfeeding, just for these sorts of problems.

*Innovative triangular design, allowing skin contact between you and your child
*Made from ultra-fine, smooth silicone for a natural feel
*Softly studded on the inside to gently stimulate your milk flow
*Complete with protective case for hygienic storage and transport
*Availabe in 2 sizes: MEDIUM 20mm dia and LARGE 24mm dia.
NUK offers products for children ranging from newbown babies through to nursery. NUK Products are made to fit and complement each other and are designed to support the different development stages of your child, thus creating the basis for promoting the most important thing in life: a healthy future.

For more than 50 years, we have spent each day seeking new solutions, which make life easier for parents and promote children's development. In our searches we trust experts in many disciplines: midwives, doctors, nutritionists and especially you - the mothers and fathers.

In almost 100 countries in the world, NUK products have been part of baby's everyday life for generations. Wherever it is, NUK repeatedly sets new standards - from the NUK AIR SYSTEM to the latest milk pumping techniques through to the current NUK Genius soother, with which the jaw-compatible NUK shape was optimised yet again.

Our production location for all teats and bottles is Germany and is therefore subject to the highest quality requirements. From the origin of the raw materials through to the packaging, we keep a good eye on everything and also subject ourselves to regular strict control by the independent Fresenius Institute.