Nuk Toothbrush Training Set
NUK Training Toothbrush Set
2-piece set with protective ring

*NUK Brush-and-Bite Teething Trainer, with extra bite effect and targeted massage to relieve teething
*NUK Brushing Trainer, to give those first teeth a gentle clean
*With ergonomic anti-slip safety grip and protective ring, so that the brush isn't pushed too far into baby's mouth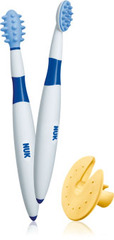 Specials are for online purchases only, don't miss out! -
Email
us to check for availability.
Proper dental care from day one:

For a child to develop healthy teeth without the onset of caries, it is essential that his parents begin oral hygiene training at an early stage - ideally before his first teeth are even visible.

The NUK Training Toothbrush Set introduces your child to regular tooth brushing step-by-step. The Brush-and-Bite Teething Trainer gently massages specific areas of the palate and gums, to relieve teething pressure. The Brushing Trainer gently cleans the first few teeth with soft, bite-resistant rubber nobbles. Your child will learn the correct brushing motion almost without noticing.

Both trainer brushes have ergonomic anti-slip safety grips and are shaped like toothbrushes. Included in the set is a protective ring, which stops the brush being pushed too far into the mouth and may also be used as a stand.
NUK offers products for children ranging from newbown babies through to nursery. NUK Products are made to fit and complement each other and are designed to support the different development stages of your child, thus creating the basis for promoting the most important thing in life: a healthy future.

For more than 50 years, we have spent each day seeking new solutions, which make life easier for parents and promote children's development. In our searches we trust experts in many disciplines: midwives, doctors, nutritionists and especially you - the mothers and fathers.

In almost 100 countries in the world, NUK products have been part of baby's everyday life for generations. Wherever it is, NUK repeatedly sets new standards - from the NUK AIR SYSTEM to the latest milk pumping techniques through to the current NUK Genius soother, with which the jaw-compatible NUK shape was optimised yet again.

Our production location for all teats and bottles is Germany and is therefore subject to the highest quality requirements. From the origin of the raw materials through to the packaging, we keep a good eye on everything and also subject ourselves to regular strict control by the independent Fresenius Institute.