Nurofen 24 tablets
Nurofen is effective in the temporary relief of pain and/or inflammation associated with:
headaches
pain and discomfort associated with migraine
cold and flu symptoms
rheumatic pain
muscular pain
backache
reduces fever
period pain
dental pain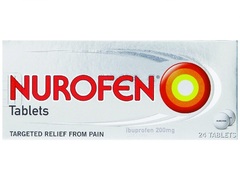 Specials are for online purchases only, don't miss out! -
Email
us to check for availability.
Nurofen is designed to relieve pain, reduce inflammation, and lower temperature. The active ingredient of Nurofen is ibuprofen a drug with a proven track record for safety and effectiveness, it is now available to you without a prescription to bring you a break through in pain relief. Ibuprofen is gentler on the stomach than aspirin. Each Nurofen tablet contains ibuprofen 200mg and is particularly effective for treating headaches, migraines, period pains, arthritis, muscle pain, neuralgia, dental pain, rheumatic pain, backache, and cold and flu symptoms.
Adults and Children over 12 years: Initial dose 2 tablets taken with water, then if necessary, 1 or 2 tablets every 4 to 6 hours. (Maximum 6 tablets in 24 hours)

Children 7 to 12 years: 1 Tablet every 6 to 8 hours as necessary (Maximum 4 tablets in 24 hours)
Nurofen: Ibuprofen 200mg.
Nurofen: If symptoms persist for more than three days, please consult your doctor. If you are receiving medication from your doctor, suffer from asthma, are allergic to aspirin, have any stomach problems or are pregnant, you should consult your doctor before taking ibuprofen or any other pain reliever.

Do not take:

* If you have a stomach ulcer or other stomach disorders, kidney or heart problems.
* If you are allergic to ibuprofen, aspirin or other anti-inflammatory medicines.
* During the first 6 months of your pregnancy, except on doctors advice. DO NOT USE AT ALL during the last 3 months of pregnancy.