NutraLife Bilberry 10,000 & Lutein Comp Tabs 30s
Eye health formula. Supports tired eyes and assists with eye strain.

AVAILABLE IN 30 CAPSULES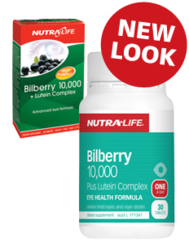 Specials are for online purchases only, don't miss out! -
Email
us to check for availability.
Why use Bilberry 10,000 Plus Lutein Complex?
This high-strength eye health formula combines the herb Bilberry with scientifically researched levels of Lutein, plus the herb Eyebright and nutrient Betacarotene. Together, these ingredients help to maintain healthy eye function and vision, and may assist with common eye problems like glare sensitivity and eye strain.

Recommended for:
*Supporting low-light or night vision, and visual clarity
*Maintaining healthy eye function and vision
*Assisting with glare sensitivity
Adults: Take 1 tablet daily, or as directed by your healthcare professional. If symptoms persist, consult your healthcare professional. Vitamin supplements should not replace a balanced diet.
Each tablet provides

Standardised herbal extract equiv. fresh
Vaccinium myrtillus (Billberry) fruit (10,000mg) 10g
Equiv. Anthocyanosides 32mg
Herbal extracts equiv. dry
Euphrasia officinallis (Eyebright) herb 100mg
Rosmarinus officinallis (Rosemary) leaf 50mg
Cofactors & Vitamins
Lutein 6mg
Betacarotene 3mg
Ascorbic acid (Vitamin C) 250mg
Riboflavin (Vitamin B2) 25mg
Nicotinamide (B3) 10mg
d-alpha-Tocopheryl acid succinate 62mg
(Natural Vitamin E) 75 IU
Taurine 50mg
Glutamine 25mg
Citrus bioflavonoids extract 50mg
Rutin 50mg
Chromium (as chromic chloride) 49.9mg
Zinc (as gluconate) 15mg
Tabletting aids, colour
Contains Lactose.
From Small Beginnings - A New Zealand Success Story

Nutra-Life has a long and proud tradition of quality assurance for over 45 years. Today, the company operates out of a state-of-the-art manufacturing facility purpose built to Therapeutic Good Manufacturing (GMP) standards, to meet the most stringent quality control requirements.

Developed specifically for New Zealand lifestyles, Nutra-Life offers a range of high quality innovative, vitamin, mineral, garlic and herbal supplements.