NutraLife Ester C 1000mg with Vit D3 Echi Chews Tabs 120s
The better vitamin C™. Fast absorption. Non-acidic, stomach friendly.

AVAILABLE IN 120 CHEWABLE TABLETS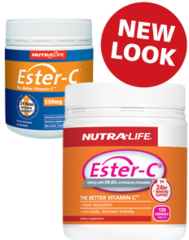 Specials are for online purchases only, don't miss out! -
Email
us to check for availability.
Why use Ester-C 1000mg with Vit D3 + Echinacea chewables?
Ester-C is made using a proprietary process that results in a Vitamin C form that your white blood cells absorb quickly. It is a researched form of Vitamin C that bolsters your natural immunity around the clock, helping you to fight off winter ills and chills. Ester-C is also a powerful antioxidant that helps to shield your cells against free radical damage.

The formula also provides Vitamin D3 and Echinacea for extra immunity support. Approximately 32% of New Zealand adults have low Vitamin D levels*. Vitamin D3 is the active Vitamin D form, providing not just immune support, but also researched bone, joint and skin health benefits.

These chewable tablets have a great-tasting lemon/lime flavour.

*adult National Nutrition Survey 2008/09, Ministry of Health.

Recommended for:
*Providing 24 hours of rapidly absorbed, non-acidic immune support
*Supporting your body in fighting off coughs, sniffles and other winter complaints
*Providing Vitamin D for extra immune support, plus bone, joint and skin health benefits
ADULTS & CHILDREN OVER 10 YEARS: Chew 1 tablet, up to 3 times daily, or as directed by your healthcare professional.

CHILDREN 5 TO 10 YEARS: Chew 1 tablet daily. Not to be used by children under 5 years of age without medical advice. If symptoms persist, consult your healthcare professional. Vitamin supplements should not replace a balanced diet.
Each chewable tablet provides

Ester-C (Calcium ascorbate - threonate complex) 1000mg
Equiv. Ascorbic acid (Vitamin C) 835mg
Cholecalciferol (Vitamin D3 330 IU) 8.25mg
Echinacea purpurea herb top flowering juice ext. equiv. fresh 1000mg
Tabletting aids, flavours (lemon/lime), antioxidant, glucose, fructose, sucralose.
From Small Beginnings - A New Zealand Success Story

Nutra-Life has a long and proud tradition of quality assurance for over 45 years. Today, the company operates out of a state-of-the-art manufacturing facility purpose built to Therapeutic Good Manufacturing (GMP) standards, to meet the most stringent quality control requirements.

Developed specifically for New Zealand lifestyles, Nutra-Life offers a range of high quality innovative, vitamin, mineral, garlic and herbal supplements.