NutraLife Ginkgo 7500 Plus Caps 30s
Circulation support formula. High-strength standardised Ginkgo plus antioxidants

AVAILABLE IN 30 CAPSULES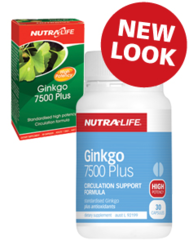 Specials are for online purchases only, don't miss out! -
Email
us to check for availability.
Why use Ginkgo 7500 Plus?
This advanced formula combines high-strength Gingko biloba with Hawthorn, Vitamin B6 and essential circulation-supporting minerals such as Magnesium, Zinc and Manganese.

Gingko is an ancient herb with a long history of use in Traditional Chinese Medicine to support healthy circulation - especially to the capillaries of the brain. Blood flow to the brain cells is essential for healthy memory and concentration, which may explain Ginkgo's popularity for these functions.

The supporting antioxidant nutrients in this formula help to further shield sensitive capillary cells against the damaging effects of free radicals. This helps to maintain good circulation not only in the brain, but also in the hands, legs and feet.

Recommended for:
*Maintaining circulation to the blood vessels of the brain
*Helping to shield capillary cells - especially in the brain - against free radical damage
*Supporting blood flow, particularly to hands, legs and feet
Adults: Take 1 capsule daily with food, or as directed by your healthcare professional. If symptoms persist, consult your healthcare professional. Vitamin supplements should not replace a balanced diet.
Each capsule provides

Herbal extracts equiv. dry
Ginkgo biloba (Ginkgo) leaf 7.5g
Stand. equiv. Ginkgo flavonglycosides 36mg
Stand. equiv. Ginkgolides & Bilobalide 9mg
Crataegus laevigata (Hawthorn) fruit 50mg
Cofactors
Ascorbic acid (Vitamin C) 200mg
Pyridoxine hydrochloride 15mg
Equiv. Pyridoxine (Vitamin B6) 12.3mg
Zinc (as gluconate) 5mg
Magnesium (as oxide) 100mg
Manganese (as amino acid chelate) 1mg
Chromium (as chromic chloride) 75mg
Encapsulating aids
From Small Beginnings - A New Zealand Success Story

Nutra-Life has a long and proud tradition of quality assurance for over 45 years. Today, the company operates out of a state-of-the-art manufacturing facility purpose built to Therapeutic Good Manufacturing (GMP) standards, to meet the most stringent quality control requirements.

Developed specifically for New Zealand lifestyles, Nutra-Life offers a range of high quality innovative, vitamin, mineral, garlic and herbal supplements.